Li Ka-shing's 'Diamond' Deal Looks More Like Coal
By
After pre-overhaul rally, shares of Li's companies are down

Brexit, concerns about diversification contribute to declines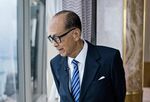 Two years after Hong Kong's richest man reorganized his business empire, promising the new structure would make his shareholders wealthier, it seems they would have been better off cashing out.
That's because anyone holding $1,000 in shares of billionaire Li Ka-shing's two main companies when the overhaul was completed in June 2015 would see that investment shrink to about $830 today after the creation of CK Hutchison Holdings Ltd. and Cheung Kong Property Holdings Ltd. The same money invested in a basket of stocks mirroring Hong Kong's benchmark Hang Seng Index would only have fallen to about $930.
It didn't start out that way. In January 2015, when Li first announced he'd merge Cheung Kong Holdings Ltd. with Hutchison Whampoa Ltd. and spin off their real-estate businesses, those shares began a five-month rally. Investors applauded the proposal -- secretly named "Project Diamond" before its announcement -- which involved the shuffling of tens of billions of dollars and was the biggest such deal in Hong Kong's history.
Reality has since set in. While some of that under-performance can be explained by forces outside of Li's control -- such as the U.K.'s unexpected decision to break away from the European Union -- the tycoon known locally as "Superman" has reason to share part of the blame. Case in point: After spinning off his property assets from the rest of his diversified businesses, Cheung Kong Property is now expanding into areas such as airplane leasing and electricity on grounds that those businesses generate better profits than real-estate development.

Cheung Kong Property, Hong Kong's second-largest developer by market value, has fallen 21 percent since its inception amid rising costs to buy land. Hong Kong has had the world's least affordable property market for years but buying land has become so costly for developers that in March, Li likened the trend to flour being more expensive than the price of bread. While this has also dragged down shares of other Hong Kong-listed property developers, Li's unit stood out amid concerns about its diversification.

"It reflects the market perception that specialization is better than diversification," said Cusson Leung, who analyzes Hong Kong property and conglomerates at JPMorgan Chase & Co. "Investors don't understand Cheung Kong Property's diversification strategy, so they give a discount to the stock."
CK Hutchison, Li's main holding company, has fallen 14 percent since its creation two years ago as earnings at the company, which counts the U.K. as its biggest market, were hit by the devaluation of the pound after Britons voted a year ago to break away from the EU.
"The initial reaction to the reorganization was very positive, but there were changes in the fundamental idea behind the reorganization and political landscape in the last two years," said Alex Wong, a director of asset management at Ample Capital Ltd. "Who would have expected the property unit expanding its business lines, mixing with non-property assets. And who would have expected Brexit to happen?"
Representatives at CK Hutchison didn't respond to requests for comment. CK Property reiterated past statements saying the company continues to focus on real estate but would also consider other opportunities that would help earnings.
Still, to say Li has let down his investors depends on when they bought in. Shareholders who owned stakes in Li's main companies right before the tycoon announced the reorganization would still be up 25 percent on their investments if they hung on to their holdings today. But that's largely because of a surge of more than 30 percent in the run-up to the reorganization's completion.

Li has also delivered on some of his key pledges, such as increased shareholder returns following the reorganization. His main companies now give back about 30 percent of their profits to shareholders as dividends, or double the 15 percent payout ratio his companies paid out in 2014. CK Property has been buying back more than $700 million of stock.
So for analysts such as Jonas Kan, head of Hong Kong research at Daiwa Securities Group Inc., people shouldn't rush to judge Li.
"It is probably still too early to conclude on the merits of this reorganization," Kan said in an email. "The process could well take years to fully unfold and we may still at the early phase of it."

Quotes from this Article
Before it's here, it's on the Bloomberg Terminal.
LEARN MORE