Vucic Takes Oath of Office as Serb Opposition Stages Protest
By and
Vucic expected to maintain his control over Serbian politics

Supporters, opponents plan rallies outside parliament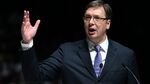 Serbian President Aleksandar Vucic was sworn into office on Wednesday as supporters clashed with opposition groups close to the parliament building in downtown Belgrade, where his inauguration took place.
The 47-year-old head of state, who stepped down from a three-year stint as premier Tuesday and once worked for late Serbian strongman Slobodan Milosevic, is switching posts after a landslide election victory.
Vucic, the most influential Serbian politician since the end of Yugoslavia, is expected to continue to hold sway over the ruling Serbian Progressive Party even as he takes up the mostly ceremonial post. He plans to keep the country on its path to the European Union, though has vowed never to join NATO or recognize Kosovo's independence and wants to keep traditionally strong political ties with Russia.
"Serbia has got a president who'll fight for it with all my heart, with all my strength and energy, in the name of the people, and for the people," Vucic told lawmakers.
In a speech in the legislature, Vucic said he wants to build better relations with the U.S. because "not building friendship with America, regardless of our differences concerning Kosovo, would cause great damage to Serbia."
Kosovo Talks
He'll continue negotiations with Kosovo Albanians in a dialog that's crucial for Serbia's EU accession and pledged to seek greater economic cooperation in the country of 20 million people.
"Vucic will retain de-facto control over Serbian politics," political risk evaluator Teneo Intelligence said in May 30 note on Serbia. "The new prime minister is expected to stay the policy course and keep most of the cabinet members in place."
The dinar gained 0.1 percent to 122.56 against the euro by 12:58 p.m. in Belgrade. The Statistics office did not publish GDP and industrial output data, as planned, while first quarter labor force survey showed unemployment rose to 14.6 percent.
Several thousand people gathered in front of parliament to cheer the new president, while opposition groups remained scattered and were prevented by the police from getting closer, though clashes occurred before the ceremony, according to N1 news portal.
Vucic's party slammed the opposition for planning a "counter-rally" on inauguration day as simultaneous gatherings of supporters and opponents have not taken place in Serbia since Milosevic's inauguration in 1997.
Deputy Prime Minister Zorana Mihajlovic said the demonstration resemble the Milosevic era with a "desire to sow conflict among the citizens." Opposition parties gathered in what they say is their "obligation to stand up against dictatorship." The main opposition rally is scheduled for 6 p.m.
Before it's here, it's on the Bloomberg Terminal.
LEARN MORE