To Repeal Obamacare, Senate May Have to Keep Some of Its Taxes
By
House bill would end them but Senate GOP may keep some revenue

Senate GOP moderates seek to soften House health-care cuts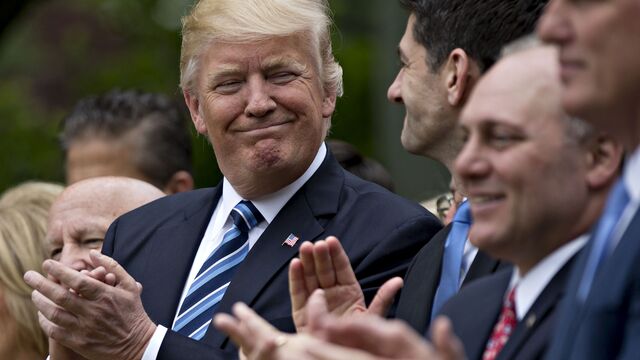 Senate Republicans crafting an Obamacare replacement are delaying one of their toughest decisions: whether to keep all of the House measure's $664 billion in tax cuts that mostly benefit well-off Americans.
The House in a bill passed May 4 voted to end taxes enacted under the Affordable Care Act, including those on investment income, expensive "Cadillac" health plans and even indoor tanning. Yet some moderate senators want to keep part of that revenue to soften the House plan's deep health-care cuts that are estimated to leave 23 million fewer people with insurance by 2026.
Senate Republicans in private talks say they're eyeing one easy move -- keeping Obamacare and its tax increases in place until 2020 before moving to a new approach. Early fissures over the ultimate fate of the taxes were on display late last week as lawmakers prepared for their week-long Memorial Day recess.
Senate Finance Chairman Orrin Hatch made the case on the Senate floor that GOP lawmakers should be prepared to cut all of them or risk looking foolish after "spending the better part of a decade railing against Obamacare's burdensome job-killing taxes."
"We should not be treating the Obamacare taxes as a smorgasbord, picking and choosing which ones to keep and which to discard," the Utah Republican said. "I don't think there is a single tax increase in Obamacare that has enjoyed support on this Republican side."
Contract With Voters
Senator Bill Cassidy of Louisiana, a Republican whose backing could be critical to Senate passage, said the most important campaign promises were President Donald Trump's pledges that people with pre-existing health conditions would keep coverage and that insurance would become more affordable. Those goals cost money, the senator said.
"President Trump's contract with the voter, when he was running, was that he would continue coverage caring for pre-existing conditions, eliminating mandates but also lowering premiums," Cassidy said in an interview. "So if we think that Trump's contract with the voters is important to us, then the fiscally conservative thing to do is to pay for it."
The president's position isn't entirely clear, though repealing Obamacare was one of his main campaign promises. On Wednesday, he wrote on Twitter, "Hopefully Republican Senators, good people all, can quickly get together and pass a new (repeal & replace) HEALTHCARE bill. Add saved $'s."
Three days earlier, Trump tweeted, "I suggest that we add more dollars to Healthcare and make it the best anywhere. ObamaCare is dead - the Republicans will do much better!"
Political Squeeze
Republicans' political squeeze stems from the fact they control the Senate by a narrow 52-48 margin and Democrats unanimously oppose replacing Obamacare. The GOP is using a streamlined procedure that would let them pass a health bill with as few as 50 votes -- plus a tie-breaker from Vice President Mike Pence -- and bypass the usual 60-vote threshold.
To use that procedure, the measure can't add to the deficit and the Senate must match the House bill's $119 billion in deficit reduction over 10 years. So some funds will be needed if Senate Republicans want to boost spending for Medicaid or other health coverage.
"The Senate bill could be so radically different than the House bill that they have to pay for it," said Stan Collender, executive vice president at Qorvis MSLGroup and a former congressional budget aide.
Senate Republicans' effort to draft their own health proposal is advancing in earnest after the nonpartisan Congressional Budget Office said last week that the House bill, H.R. 1628, would undermine some insurance markets and make plans in those areas too costly for older or sicker people.
Medicaid Spending
The House bill slices Medicaid spending for low-income Americans by $834 billion over a decade -- ending Obamacare's expansion of the program in 2020 -- and reduces subsidies for people buying coverage on insurance exchanges. It creates refundable tax credits for individual coverage purchases, drops the requirement that individuals have insurance, and allows higher premiums for those with pre-existing conditions.
Democrats have assailed the House bill as a tax-cut plan for the wealthy. To save $664 billion over a decade, it ends Obamacare's 3.8 percent surtax on investment income for households making at least $250,000 a year, and a 0.9 percent payroll tax on individuals making $200,000 or couples making $250,000.
Among more than a dozen others, the House plan repeals a 40 percent excise tax on expensive employer-provided health plans, a 10 percent tax on indoor tanning services and a 2.3 percent excise tax on sales of medical devices.
Senate Republicans participating in health-bill negotiations say their conversations so far have centered on policy changes, not taxes. GOP senators are looking at a slower phase-out of Obamacare's Medicaid expansion and shoring up insurance exchanges as insurers are leaving parts of states including North Dakota, Missouri and Iowa.
Driving McConnell 'Crazy'
Keeping some Obamacare tax increases in place for a while could yield the funds to make a health bill more palatable to GOP moderates such as Senator Lisa Murkowski of Alaska and Susan Collins of Maine. Still, that risks losing conservative GOP support in the Senate or could make it significantly harder to reach a compromise with the House, Collender said.
"This is undoubtedly one of the things that has to be driving Mitch McConnell crazy," Collender said of the Senate's top Republican leader. "It's the key difference between the House and Senate Republicans. Tea Party members of the House want to cut taxes all the time, any way they can on any legislation. The Senate is willing to be more moderate and almost has to be, given its constituency."
GOP senators have yet to agree on any portion of a health bill, and McConnell last week told Reuters he isn't sure he can get the 50 votes a measure needs to clear the chamber.
According to a new poll out this week, just 8 percent of American adults want the Senate to pass the House health bill as it is. The Kaiser Health Tracking Poll, conducted May 16-22, also found that 55 percent of adults have an unfavorable view of the House plan, while 31 percent have a positive one.
— With assistance by Steven T. Dennis
Before it's here, it's on the Bloomberg Terminal.
LEARN MORE