Penn Station Repairs Could Add 90 Minutes to New Jersey Transit Commutes
By
Delays will affect 7,500 passengers, NJ Transit chief says

Lawmakers say they were turned away from agency headquarters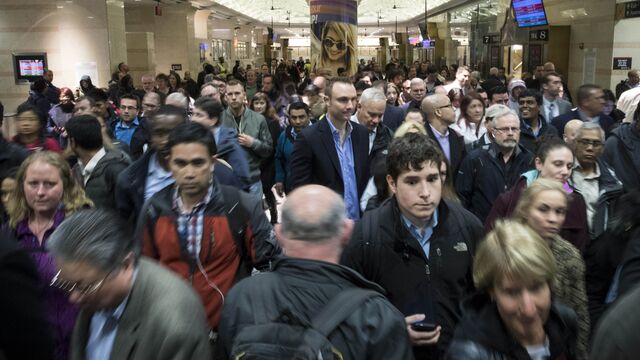 Thousands of New Jersey rail riders will face as much as 90 minutes' extra commuting time during eight weeks of maintenance at New York's Pennsylvania Station, New Jersey Transit's executive director told lawmakers.
The delays will affect 7,500 passengers traveling to and from New York City on the Morris-Essex line, the transit agency's second-busiest, director Steven Santoro said Wednesday at a hearing in Newark. Trains that typically go directly to Manhattan will be diverted to Hoboken, where riders will board ferries and trains operated by the Port Authority of New York and New Jersey for the final leg.
The Midtown Direct line serves hometowns of the financial elite, including Chatham, Summit, Millburn and Maplewood. The proposal is "flat-out wrong" for not spreading the delays among other lines, Maplewood Mayor Victor De Luca told lawmakers. About 2,500 of his residents rely on the Morris-Essex line to get to New York City each day, and people bought houses in Maplewood and neighboring towns specifically for the mass transportation, he said.
"If we didn't have the train, our towns would not be booming," he said.
Santoro said the nation's second-busiest commuter railroad was at the mercy of Amtrak, Penn Station's owner, which stepped up track and signal work after two derailments in March and April. New Jersey Transit and the Long Island Rail Road, which pay Amtrak to use the station, must alter their schedules for what New York Governor Andrew Cuomo called the "summer of hell."
"Commutes will not be normal this summer," Santoro said.
Hellish Commutes
Santoro estimated that the diversion to Hoboken would extend commutes each way by up to 30 minutes for those who switch over to the PATH, and as much as 45 minutes for those who jump on the ferry.
De Luca called the Hoboken transfer "a horror," with platforms not long enough to accommodate all the Morris-Essex train cars. Even the turnstiles, he said, can't efficiently process excess crowds.
Some officials said the plan came together secretively, without input from elected representatives of the riders most affected. Sheena Collum, village president of South Orange, said that as Governor Chris Christie announced the service changes at a May 23 news conference in Trenton, she was texting other local officials asking whether they had been made aware of the plan. None had, she said.
Turned Away
Assemblyman John McKeon, a Democrat from West Orange who is co-leading a legislative inquiry on New Jersey Transit operations and safety, said he will exercise subpoena power to learn how the service cuts were determined.
On Tuesday, McKeon and other lawmakers and mayors were turned away from New Jersey Transit headquarters in Newark when they sought to discuss the plan with management. Santoro said New Jersey Transit officials had decided that Wednesday's open public hearing was the best place to address their concerns.
Senator Teresa Ruiz, a Democrat from Newark, said Amtrak and New Jersey Transit are failing to keep riders up to date on schedule changes as it is, and the upcoming eight weeks must involve directives to use alternative services.
"There doesn't appear to be enough conversation on how to be creative on behalf of the rider," Ruiz said.
Before it's here, it's on the Bloomberg Terminal.
LEARN MORE