DOJ's Weissmann Joining Mueller's Russia Investigation Team, Sources Say
By
Andrew Weissmann oversaw VW, foreign bribery, bank cases

Wilmer's Rhee also said to be joining Mueller-led group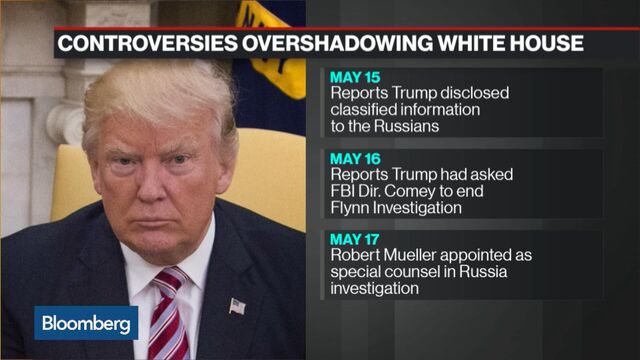 Special counsel Robert Mueller is bolstering his team of U.S. investigators probing possible collusion between the Trump campaign and Russia, adding a top Justice Department official who's been overseeing corporate fraud and foreign-bribery investigations, as well as a former law-firm colleague, according to people familiar with the matter.
Justice Department fraud chief Andrew Weissmann is the most senior government lawyer to join Mueller, the former Federal Bureau of Investigation director who became special counsel on May 17, said two people, who asked not to be named discussing a personnel matter that hasn't been made public. 
Mueller also recently brought on Jeannie Rhee, according to two people. Rhee, a partner in the investigations practice at his former law firm, Wilmer Cutler Pickering Hale & Dorr LLP, previously worked in a Justice Department office that gives legal advice to the White House.
Weissmann and Rhee join a growing team that includes Peter Carr, a veteran spokesman for the Justice Department who will deal with the news media, and two former Wilmer partners, Aaron Zebley and James Quarles.
As the head of the fraud section in the Obama administration, Weissmann's specialties have included overseeing investigations into corporate wrongdoing and foreign corruption -- including probes into Volkswagen AG over diesel-cheating, global banks over market manipulation and Brazil's state-owned oil company Petrobras over corrupt payments. He also started a pilot program that offered companies incentives to self-report possible violations of the Foreign Corrupt Practices Act, which prohibits bribing foreign officials.
Special Investigations
Weissmann previously worked for Mueller as the FBI's general counsel from 2011 to 2013. He also has experience with special investigations, having worked on and later managed the Enron task force during the George W. Bush administration.
Rhee, for the past six years, has advised Wilmer clients under government investigation. She previously worked for two years as a deputy assistant attorney general in the Justice Department's Office of Legal Counsel advising the White House and the attorney general on executive power and national-security issues. Rhee initially joined Wilmer in 2006. Before that, she was an assistant U.S. attorney in Washington.
Weissmann's move leaves another senior leadership post open at the Justice Department, which still awaits appointments from Trump to lead its criminal and civil divisions. Weissmann was brought on in 2015 to run the fraud section under Leslie Caldwell, assistant attorney general for the criminal division during the Obama administration, whom he previously worked with on the Enron task force.
Sandra Moser, Weissmann's deputy and an 11-year veteran of the Justice Department, will take over the fraud section as its acting chief until a permanent replacement is named. Moser has been a supervisor in the section for the past four years.
Weissmann didn't immediately respond to messages seeking comment. Rhee couldn't immediately be reached for comment.
Carr, the Mueller spokesman, and Wyn Hornbuckle, a spokesman for the Justice Department, declined to comment.
(A previous version of this story corrected Leslie Caldwell's title.)
Before it's here, it's on the Bloomberg Terminal.
LEARN MORE