business
Mylan May Have Overcharged Taxpayers by $1.27 Billion for EpiPen
By
Grassley releases letter from HHS Office of Inspector General

Senator says he worried about companies 'gaming the system'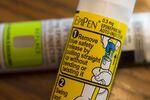 U.S. taxpayers may have overpaid for Mylan NV's EpiPen shot by as much as $1.27 billion over the last decade, according to a U.S. government report.
Senator Charles Grassley, an Iowa Republican, on Wednesday posted a copy of a report by the Department of Health and Human Services' Office of the Inspector General. The report says that Mylan, by classifying EpiPen as a generic drug rather than a brand-name product, shortchanged the Medicaid program for the poor.
Under Medicaid, makers of brand-name drugs must provide deep discounts on their products. In October, Mylan said it reached a settlement with the U.S. to pay $465 million for misclassifying the drug as a generic product, which doesn't require the same discounts. Grassley has been critical of the October settlement, calling it too small.
"As part of bringing down drug costs, we have to make sure companies that take part in federal health care programs aren't gaming the system," Grassley said in a statement. It's Congress's job, he said, to ensure that taxpayers "don't overpay for EpiPens or any other drugs in public health-care programs." Grassley leads the Senate Committee on the Judiciary.
Nina Devlin, a Mylan spokeswoman, said in an email that "we continue to work with the government to finalize the settlement as soon as possible." Nicole Navas, a Justice Department spokeswoman, didn't immediately return a request for comment about the status of the settlement.
Grassley has pushed for Mylan and the Centers for Medicare and Medicaid Services to explain why EpiPen was misclassified by the agency, which oversees the health program. Grassley said that CMS has provided documents showing the agency told Mylan it was misclassifying EpiPen but that the drugmaker failed to correct the situation. Mylan has not provided the requested documents to the committee, he said.
Mylan acquired rights to sell EpiPen in 2007, and raised the price by about sixfold before coming under scrutiny last year for charging $600 for a two-pack of the life-saving medication. Mylan has since launched a generic version of EpiPen at a lower price in an effort to quell the controversy.
— With assistance by David McLaughlin
Before it's here, it's on the Bloomberg Terminal.
LEARN MORE