politics
May Campaign Adviser Messina Hits Back Over YouGov Poll
By
Jim Messina: 'laughing at yet another stupid poll from YouGov'

Pollster's projection showed Tories losing 20 seats on June 8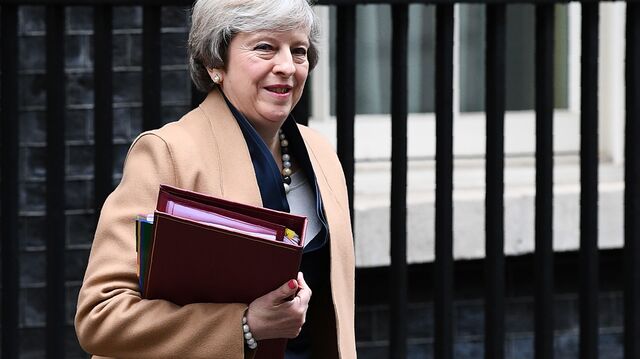 One of Theresa May's most senior campaign officials publicly attacked a British polling company for releasing data suggesting the prime minister is on track to lose her majority in Parliament.
Jim Messina, a former White House deputy chief of staff who joined the Tory campaign last month, hit back at YouGov Plc research that suggested May could lose 20 seats in the U.K. election on June 8.
"Spent the day laughing at yet another stupid poll from .@yougov," Messina wrote on Twitter on Wednesday. He challenged the company's general manager Ben Leet to a "bet for charity" on whether the figures prove to be accurate.
It's rare for any of the backroom officials working to re-elect May to speak out publicly. Political strategist Lynton Crosby, another key Tory adviser, is known to discourage news stories about the "process" of a campaign, because they distract attention from the key messages he wants voters to grasp.
Messina, who worked on voter targeting for former Prime Minister David Cameron's successful 2015 Conservative election campaign and was manager for President Barack Obama's 2012 re-election bid, was hired by May's Conservative Party in April within a few days of her surprise decision to call an election.
The pound dropped to the lowest in five weeks on Wednesday as investors reassessed the election that a month ago looked set to produce an overwhelming majority for May. The fall in sterling followed the YouGov projections, based on an analysis of 50,000 interviews over seven days.
YouGov's findings, published in Wednesday's edition of The Times of London, suggested May would lose 20 seats and be stripped of her overall majority, with just 310 lawmakers in a hung Parliament, down from 330 before she called the election. Labour would gain 28 seats in the 650 seat House of Commons and finish with 257 members of Parliament, under the YouGov model.
The YouGov result allows for a wide margin of error and the pollster acknowledged its predictions would be controversial, even though the model correctly predicted the result of the Brexit referendum. A hung Parliament, with no single party in overall majority control, would be damaging for May and would undermine her ability to rule.
Before it's here, it's on the Bloomberg Terminal.
LEARN MORE