Italy Unemployment Rate Fell to Almost 5-Year Low in April
Lorenzo Totaro and Kevin Costelloe
Employers lobby Confindustria sees possible growth pickup

Number of employed rises 94,000, while more 'inactive' as well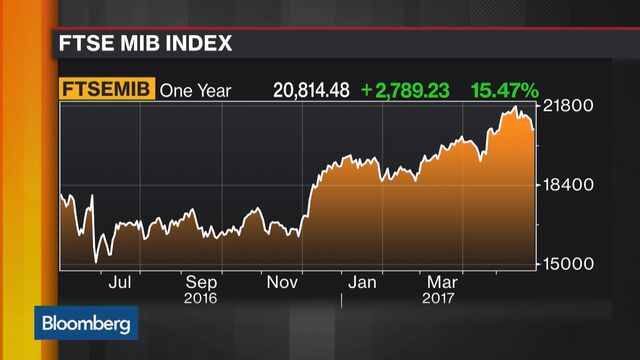 Italy's jobless rate fell in April to an almost 5-year low, pointing to improved growth prospects for the rest of this year.
The unemployment rate was 11.1 percent, down from a revised 11.5 percent in March, statistics agency Istat said Wednesday in Rome. The median estimate in a Bloomberg survey of 13 analysts called for a reading of 11.6 percent. It was the lowest since September 2012.
In the first quarter, Italy's gross domestic product expanded by 0.2 percent, the same pace as the final three months of last year. Still, employers lobby Confindustria said in a report last week that GDP may rise at a faster pace in the current quarter.
There were 94,000 more people employed in April compared with the prior month while 24,000 were added to the "inactive" category, Istat said in its labor-data report. Joblessness for those aged 15 to 24 stayed at 34 percent, the same as the revised figure for March, in the lowest since February 2012.
Italy's annual GDP expansion will be limited to a 1 percent increase in 2017, Istat said in its economic outlook on May 22. 
The country may be heading toward early elections in the fall as the major political parties seek final agreement on an electoral law reform.
— With assistance by Andre Tartar, and Giovanni Salzano
Before it's here, it's on the Bloomberg Terminal.
LEARN MORE