markets
Here's What Market Analysts Are Saying About U.K. Election Polls
Market strategists fret that a weak Conservative government will weigh on the pound.
By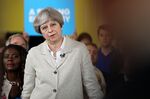 The prospect that the Tories' lead over Labour may be narrowing has jolted the currency markets. 

Investors factoring in the possibility that it will be a weakened or even coalition government confronting EU negotiators in upcoming Brexit talks helped the pound drop to a five-week low at one point on Wednesday, after a YouGov Plc study in The Times showed Theresa May's Conservative Party could fall short of a parliamentary majority. It later recovered to trade at its strongest level this week after a rival poll showed the governing party's chances intact -- even though that study was conducted more than a week ago. 

The surprise general election called in April fueled a sharp rally in the pound, as investors banked on the prospect of a strong, May-led administration that would present a united front in negotiations to exit the European Union. Now, traders aren't so certain.

Here's a roundup of reactions to the polls. 
 
George Saravelos, strategist at Deutsche Bank AG:
If May is unable to deliver a substantially increased majority, her flexibility to negotiate will not have improved. A strong Conservative majority is also only a necessary, not sufficient condition for a smooth Brexit. Initial talks on the exit agreement look fraught, particularly with the European stance over the Brexit bill hardening.
James Rossiter, economist at TD Securities:
YouGov notes that their confidence band also includes the Conservatives taking 345 seats (vs Labour at 223), putting them into majority territory. Small changes in overall support for the parties could also yield significantly different results, and this poll showed only a 4 percentage-point difference between Conservative and Labour support— the closest yet. However, YouGov also notes that this model correctly predicted the result of the 2016 EU Referendum. 
Citigroup Inc. strategists led by Giada Giani:
We would highlight that YouGov's result highlights an important additional problem: neither the Conservatives nor an alliance of Labour, Liberal Democrats and SNP might be able to muster a majority. In that case – unless one of the opposition parties decides to support the Conservatives – an unstable Conservative minority government could emerge or new elections be called. The latter would delay the Brexit negotiations. The former would mean greater power for the relatively pro-EU opposition and thus probably raise chances of a soft Brexit. 
 Andrew Goodwin, analyst at Oxford Economics:
While it is true that the Conservatives' lead in the polls has narrowed since the general election was called, the overnight prediction from YouGov that the party would fall short of a majority does seem to be an outlier. But while there is a greater spread in the polls this time around, implying a bigger degree of uncertainty around the final result, even the most pessimistic prognosis for the Conservatives gives them a 6% lead, similar to their margin of victory in 2015, so there is nothing in the national level polling data to suggest that the Conservatives risk losing seats. 

Our central case remains that the Conservatives will win comfortably on 8 June with a majority approaching three figures.
Bill Blain, strategist at Mint Partners:
The Tory campaign looks off the rails and off message. On the face of it Corbyn appears to be attracting a strong, and very British, underdog vote – helped by an almost human performance on TV. We might have mis-judged this whole election, thinking it was about the need for Strong Brexit Politics and Firm Leadership. If it's actually about personalities, then Theresa May is in more trouble than the polls suggest.
Jane Foley, currency strategist at Rabobank:
In theory, Labour's Brexit stance stance should be welcome for GBP.  However, fears that Labour's pledge not to 'distinguish between migrant labour' could alienate EU governments particularly in Eastern Europe during Brexit negotiations.  Also, uncertainty about UK defence policy under Labour leader Corbyn could unsettle the pound.  Potentially of more immediate concern for the market would be speculation that economic reforms could be unwound under a hard-left Corbyn government and that the budget deficit will bear the brunt.  In our view GBP is unlikely to welcome a success for Labour next week despite the party's softer position on Brexit. 
Before it's here, it's on the Bloomberg Terminal.
LEARN MORE