politics
Balance of Power: Merkel's Word
By and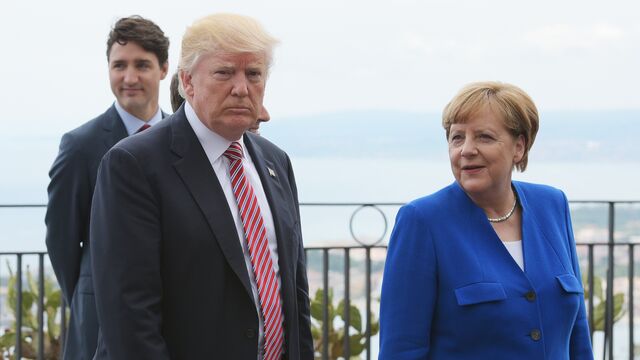 What was she thinking?
Angela Merkel has come under fire for hastening the end of the trans-Atlantic alliance for domestic political gain.
Yet her assertion that Europe has to step up as U.S. ties become "to some extent" less dependable was welcomed at home. She's seeking a fourth term in September elections, and there's no doubt that standing up to Donald Trump plays well in Germany.
And there is a precedent. Gerhard Schroeder refused to back the U.S. invasion of Iraq in 2002, going on to win that year's German election.
But if there's one thing we've learned throughout Merkel's near-12 years in office, it's to take her at her word.
Merkel acknowledges her comments may have taken on added significance after Trump's visit to Europe, but that's not her fault, according to a German government official. She was merely stating what she sees as reality, with Europe taking the lead during the Ukraine conflict and the refugee crisis, the official said.
For Trump, the domestic politics of a Merkel feud are simple, with little downside. This is exactly what his voters elected him for.
Sign up to receive the Balance of Power newsletter in your inbox, and follow Bloomberg Politics on Twitter and Facebook for more.

Global Headlines
May pounded | Theresa May woke up to another poll that would have seemed unfeasible a few weeks ago, compounding a sense that her campaign is going awry. The YouGov survey, based on a new model, suggested her Conservatives may fall short of a majority, weakening the pound to a more than five-week low. YouGov chief executive Stephan Shakespeare wrote in the Times that the survey wasn't a prediction, but an attempt to translate current polling into seats.
Trump's Middle East dilemma | Trump the candidate pledged to smash Islamic State without getting sucked into a wider war. As president, he told America's Middle East allies he wants to limit Iranian power in the region. Bloomberg's Henry Meyer and Nafeesa Syeed write that keeping both vows may be impossible in Syria, where Islamic State's defeat looks inevitable and the U.S. and Iran -- as well as Russia and Turkey -- are jostling for influence.
Flynn blinks on Russia probe | Ousted White House National Security Adviser Michael Flynn relented slightly by agreeing to hand over some of his companies' documents to the Senate Intelligence Committee for its probe into alleged Russian meddling in the 2016 election. While he's also prepared to release some personal papers, he's ruling out testifying before the committee. 
Bloodshed in Kabul's diplomatic enclave | A massive suicide bomb rocked one of the safest areas in Afghanistan's capital today, killing at least 80 people and wounding more than 350, the latest sign the country's 16-year war isn't about to end any time soon. Trump is weighing deploying as many as 5,000 extra troops to bolster Afghan forces, which are stuck in a stalemate with the Taliban and a small but growing number of Islamic State fighters. 
North Korea has more friends than you think | For all the sanctions placed over the years, it retains diplomatic ties with 164 countries around the globe -- about eight times more than democratic Taiwan. Its foreign embassies serve as bases to earn income from guest workers, restaurants, drug smuggling and arms sales, with the proceeds helping to keep Kim Jong Un's regime afloat. 
Kushner's feud | Jared Kushner's father, Charles, and Charles' brother Murray have been called the Cain and Abel of New Jersey real estate, feuding publicly for more than a decade through competing property empires. One thing now unites the brothers: Both have had projects promoted to Chinese investors by playing the White House card, Bloomberg reports today. 
Looming climate disaster? | Trump has the world on edge this week as he weighs whether to pull out of the Paris climate agreement. A U.S. withdrawal from the deal involving almost 200 nations could have a domino effect on the participation of others in limiting fossil-fuel pollution making it almost impossible to stop catastrophic climate change, according to academics gathered by the United Nations.
And finally... Chaos. Sabotage. Terror. Season 5 of Netflix's dystopian American political series "House of Cards" launched yesterday with a global marketing push. With scandals and turmoil roiling countries from Turkey to Brazil, the show's resonance isn't restricted to the Washington beltway. In fact, Netflix's CEO wants to use the show to drive its global ambitions: He says international markets could some day account for 80 percent of viewers.

Before it's here, it's on the Bloomberg Terminal.
LEARN MORE