Interceptor 'Completely Obliterated' Mock Missile, Pentagon Says
By
Missile defense chief says threats can be countered to 2020

Critic questions if test matched 'real-world' conditions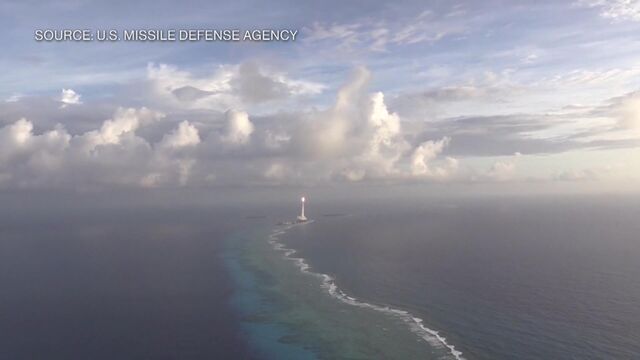 A Raytheon Co. warhead "completely obliterated" a mock intercontinental ballistic missile in a test that shows the U.S.'s $36 billion ground-based defense system can defeat any long-range threat North Korea or Iran can develop through 2020, a top Pentagon official said.
The test on Tuesday showed the system based in Alaska and California "helps us outpace the threat" while a new warhead to be deployed by 2019 "will be the next step to improving reliability and performance against the evolving threat," Vice Admiral James Syring, director of the Missile Defense Agency, told reporters Wednesday on a conference call.
Progress by North Korea's ruler Kim Jong Un toward developing a nuclear missile that can hit the U.S. mainland has focused new attention on the array of missile interceptors. Success is a political boost for President Donald Trump, who has vowed that North Korea won't be permitted to develop an ICBM.
The Pentagon released dramatic video of the explosion as the interceptor launched from Vandenberg Air Force Base in California crashed into the mock ICBM fired from Kwajalein Atoll in the Marshall Islands. But a scientist critical of the missile defense program questioned whether the exercise staged in daylight against a target launched from a known location provided a "real-world" test of a system that has had as many failures as successes in the past.
Realism Questioned
"What I think it showed is that they're on the right track in the fixes to this kill vehicle" but it didn't prove a "realistic capability," Laura Grego, senior scientist for the Global Security Program at the Union of Concerned Scientists, said in an interview. "A real adversary would try to confuse you as much as possible" by launching at night, perhaps in the rain and with a barrage of decoys.
Syring said decoys were used in the first test of the ground-based interceptor system since one that the Missile Defense Agency called a success in June 2014 -- after two that failed in 2010. "What we see in 2020 was very well-replicated" on Tuesday, Syring said.
The element of surprise was missing. Military personnel who conducted the test from a U.S. Northern Command site in Colorado were aware the test was scheduled within a launch window of several hours, Syring said, although they weren't tipped off when the dummy missile was launched. With a system that's on constant watch, they were alerted to the launch per standard procedure by the early warning SBIRS satellite and cued by tracking radar on Wake Island in the Pacific and an X-band precision radar floating in the Pacific on a platform.
Syring said his assertion that the U.S. is protected until 2020 is based on intelligence community projections of the current status of North Korea and Iranian missiles as well as how they are expected to evolve. "We design tests specifically to incorporate the attributes of that threat today and what the intelligence community predicts it will be in, say, three years," he said.
More Tests Needed
The test's success was an important step toward demonstrating that improved interceptors the agency is now installing in silos "are capable and can be relied upon to defend the U.S. homeland from a ballistic missile attack," Cristina Chaplain, the missile defense director for the nonpartisan Government Accountability Office, said in an email.
But she cautioned that it was "one of several tests needed" to demonstrate that the system is capable of defending the U.S. and said further analysis "is also needed to ensure that no further changes are needed to the interceptors currently undergoing production."
The GAO said in a report issued earlier Tuesday that the ground-based system continued to make progress last year as the Pentagon expands a 30-interceptor force to 44 by year-end, a decision made in May 2013 to counter North Korea's growing threat. There are 36 interceptors in silos today.
The network of radar, communications and interceptors managed by Boeing Co. has demonstrated only a "limited capability to defend the U.S. homeland from small numbers of simple" intercontinental ballistic missiles, the Pentagon's testing office said in January in its latest annual report.
In addition to replicating for the first time the first time the speed, trajectory and closing velocity of an ICBM, Tuesday's launch also tested avionics updates to the booster rocket built by Orbital ATK Inc. that carries an improved version of the conventional warhead made by Raytheon, Syring said.
Before it's here, it's on the Bloomberg Terminal.
LEARN MORE