Macron's Clean Image Tested as Two Ministers Come Under Fire
By
Two ministers enmeshed in ethics affairs after bitter campaign

French government standing by Ferrand, Sarnez for now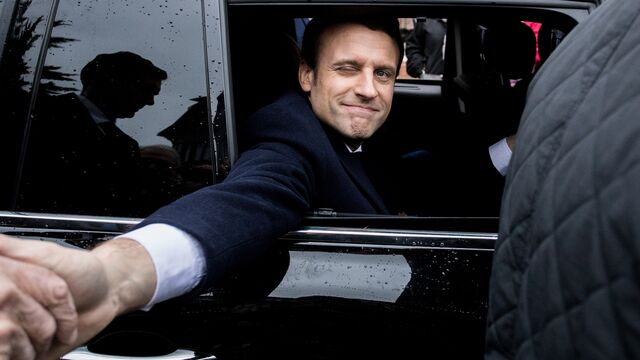 Emmanuel Macron won the French presidency partly by projecting a clean image as several of his rivals were enmeshed in legal woes. Now two of Macron's cabinet members are facing ethical questions of their own.
Junior minister Marielle de Sarnez's name is on a list of 19 European members of parliament subject to a preliminary probe for having employed party operatives as parliamentary aides. Richard Ferrand, who ran Macron's campaign and is now minister for regional development, is facing calls to step down after reports that his partner may have benefited from a real estate transaction with a mutual insurer that Ferrand ran in 2011 before becoming a member of the National Assembly.

While the matters in question may be minor compared with past French political scandals, they come after an election campaign in which public probity played a major role and a week before Macron's government plans to present a "political morality law" that would limit the ability of lawmakers to work as consultants or hire family members. The revelations come in the midst of campaigning for the June elections for France's parliament, which will determine if Macron has enough of a majority to push through his platform.
Ferrand Tuesday issued a statement refuting item-by-item various allegations made in the French press about the transaction. But Canard Enchaine, the investigative weekly that first reported the real estate deal, said in a Twitter posting that it will have additional information in its Wednesday edition.
For the moment, the government is sticking by Ferrand and Sarnez. "We are talking about practices which are perfectly legal," government spokesman Christophe Castaner said Tuesday on LCI television when asked about Ferrand. "For me, this isn't a scandal." Sarnez has said she didn't break any laws and Castaner said the probe appears to have resulted from a "slanderous" list of deputies compiled by the National Front.
The National Front drew up the list of 19 French lawmakers in the European parliament to show that its presidential candidate Marine Le Pen had been unfairly treated, the party's vice-president Florian Philippot said Tuesday on Europe 1 radio. Le Pen, who lost to Macron in the May 7 presidential vote, has been under investigation since December for using European parliament allowances to pay for party work in France. The European Parliament has demanded that Le Pen repay the allowances, which she's refused to do. Sarnez said in a posting on Twitter that she's suing the National Front for slander.
"We don't think these cases are illegal, just as our case wasn't illegal," Philippot said about the list. "We found many others had the same set-up but the justice system's fire was trained solely on Marine Le Pen. There's a question of equal treatment."
Ferrand's case involves his time as director general of the Mutuelles de Bretagne, which in 2011 rented commercial spaces from a real estate company belonging to Ferrand's partner. Mutuelles de Bretagne said Monday in a statement that the real estate operation was carried out correctly and didn't break any rules, and the local prosecutor has said there's no grounds to open an investigation.
That hasn't stopped leaders of the rival Socialist and Republican parties, as well as the National Front, calling for Ferrand to resign from the cabinet.
The Republicans presidential candidate Francois Fillon had been leading in the polls until he was put under investigation in January over whether family members he employed as parliamentary aides actually did any work.
Before it's here, it's on the Bloomberg Terminal.
LEARN MORE