Labour's Corbyn Fumbles Figures for Free Child-Care Policy
By
Corbyn asks to 'come back to that,' fails to give figure

Home spokeswoman Abbott stumbled on police costs previously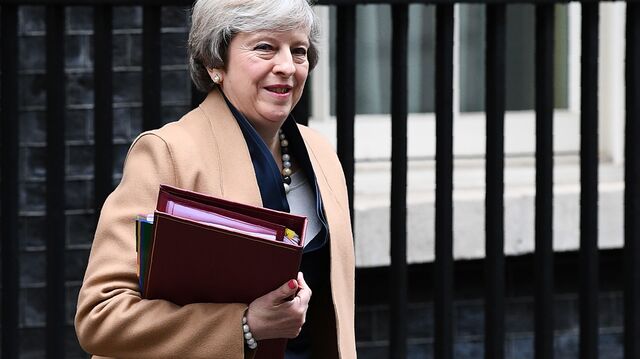 U.K. opposition Labour leader Jeremy Corbyn was unable to give a cost for his party's pledge to provide free child care in an interview with BBC Radio 4's "Woman's Hour," a program with 3.7 million listeners.
When asked Tuesday by the BBC's Emma Barnett how much the flagship policy would cost, Corbyn replied: "Can we come back to that in a moment? I want to give you an accurate figure." As Barnett continued to press him, she told listeners Corbyn was logging into his iPad. He still failed to give the number before Barnett offered to tell him the "staggering cost" of the pledge.
Later, at a lunchtime live webchat with parenting website Mumsnet, Corbyn said it would cost 5.3 billion pounds ($6.8 billion) a year by 2022. Then, in a campaign event in Watford, on the edge of London, to launch the party's race and faith manifesto, the Labour leader repeated twice that the policy would cost 4.8 billion pounds a year by the end of the parliamentary term. A Labour spokesman later said Corbyn was not including extra money for the so-called Sure Start program in the lower number.
With just over a week until the election, the stumble called to mind an interview by Labour's home-affairs spokeswoman, Diane Abbott, a close Corbyn ally, on the cost of policing last month. Abbott made several estimates of how much her party's plan to hire an additional 10,000 police officers would cost. She initially said it would require 300,000 pounds to take on 10,000 officers, suggesting a payment of just 30 pounds each.
Faced with accusations on "Woman's Hour" that he didn't know how much his policies cost, Corbyn hit back at Conservative cuts, saying the Tory party's policies have caused "underfunded services" and "a growing gap between richest and poorest."
He also rebutted accusations from the Radio 4 presenter that his party is badly organized. "My office is not run chaotically at all," he said. "We've put together in two weeks a comprehensive manifesto, we have an economic strategy which is fundamentally about investment in our economy for the future."
Corbyn was also asked about his membership of the Campaign for Nuclear Disarmament. He said he doesn't think he's a vice-president of the group, before adding, "I'm surprised it's on the website, because I resigned from those positions when I became leader of the party."
When asked what his stance on nuclear weapons would be if elected, Corbyn said: "I will put as much effort as I possibly can into bringing about the reality of a nuclear-free world." His party supports renewing Trident, the U.K.'s nuclear deterrent.
On Brexit, the Labour leader promised not to walk away from negotiations without a deal if he becomes prime minister. "It seems a strange way to start a negotiation, saying if you don't agree with me I'm going to walk away," he said. "It leaves the other side very little incentive to come to an agreement." Prime Minister Theresa May has repeatedly said that no deal on Brexit would be better than a bad deal.
Barnett said on Twitter she had faced abuse from Corbyn supporters following the Radio 4 interview. Speaking in Watford, Corbyn condemned such attacks and said: "It is totally and absolutely unacceptable for anyone to throw abuse at anyone else."
Before it's here, it's on the Bloomberg Terminal.
LEARN MORE