Trump's Saudi Support Seen Fraying Ties Between Gulf Allies
By and
Saudi, U.A.E. slam Qatar over Iran, support for Islamists

Spat comes as Trump visit boosts relations with Saudi Arabia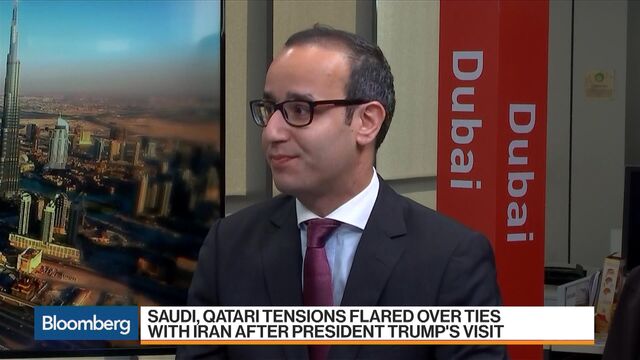 The Arab show of unity with President Donald Trump in Saudi Arabia had just ended when a spat erupted between energy-rich U.S. allies he met -- and praised -- during his visit to the kingdom.
Three days after Trump and King Salman singled out Iran as the world's main sponsor of terrorism, Saudi Arabia and the United Arab Emirates accused Qatar of trying to undermine efforts to isolate the Islamic Republic. Newspapers, clerics and even celebrities attacked Qatari ruler Sheikh Tamim bin Hamad Al Thani: Riyadh-based Al-Jazirah went as far as accusing him of stabbing his neighbors with Iran's dagger.
Emboldened by closer U.S. ties under Trump, analysts say Saudi Arabia and the U.A.E. seek to smash any opposition that could weaken a united front against Iranian influence in the Middle East. The two countries are also putting pressure on Qatar to end its support for Islamist movements such as the Muslim Brotherhood and Hamas.
"We're seeing the U.S. under President Trump very closely aligning itself with the interests of Saudi Arabia," said Peter Salisbury, senior research fellow at Chatham House's Middle East & North Africa Program. "One wonders whether that alignment makes the Saudis feel that they are now empowered to really swat down anyone within their region or within their allies who might try to pursue a more independent path."
Market Risk
Internal disputes among the Gulf countries could limit their appeal to foreign investors. Even before Trump's visit, Citigroup said rising tensions between the U.S. and Iran could also have "significant" implications for oil and financial markets, according to a May 11 research note. 
Bond investors paid more attention to Qatar's recent rating downgrade by Moody's Investor Service than the spat with the kingdom, according to Sergey Dergachev, who helps oversee about $14 billion in assets as a senior money manager at Union Investment Privatfonds GmbH in Frankfurt.
"It is a sensitive issue politically, but an issue that will most likely be resolved diplomatically between GCC leaders," he said in an emailed response to questions.
Trump spent two days in Riyadh, overseeing deals he said were worth almost $400 billion. He also held talks with Sheikh Tamim to discuss Qatar's purchase of American military equipment, and said the two countries have "been friends now for a long time."
Read More: U.A.E. Minister Says Gulf States in Crisis Amid Qatar Spat
The latest crisis started when the state-run Qatar News Agency carried comments by Sheikh Tamim criticizing the mounting anti-Iran sentiment. Officials quickly deleted the comments, blamed them on hackers and appealed for calm.
That didn't stop Saudi and U.A.E. media outlets from launching a verbal war against Qatar, and their attacks escalated after Sheikh Tamim's phone call with Iranian President Hassan Rouhani over the weekend in apparent defiance of Saudi criticism.
'Too Soft'
Some Gulf countries see Qatar as "too soft on Iran," according to Paul Sullivan, a Washington-based Middle East expert at Georgetown University. "Qatar and Iran share a massive natural gas field and are close neighbors."
Saudi Arabia's Okaz newspaper accused the Qatari ruler of "committing the gravest of sins" by supporting "terrorist groups and the sectarian Iranian regime." Al-Eqtisadiah, another daily, accused Qatar of being "an emirate of coups and treachery."
"Trump came to Riyadh and went, and Saudi Arabia started counting its gains from this historic visit," Saudi columnist Jameel Al Theyabi wrote in Okaz. "We are loyal to our country, not subjects of Iran and the Brotherhood."
Read More: Gulf Spat Escalates as Saudi Arabia, U.A.E. Media Attack Qatar
Institutional and individual investors from the GCC sold 34.6 million riyals ($9.5 million) of Qatari stocks on Monday, the most in a single trading session since March 21. The QE Index dropped 0.5 percent in Doha, the only major stock index in the region to drop on Tuesday.
Past Feuds
Disagreements among the six member Gulf nations have flared in the past. In 2014, Saudi Arabia, the U.A.E. and Bahrain temporarily withdrew their ambassadors from Qatar. That dispute centered on Egypt, where Qatar had supported a Muslim Brotherhood government while the Saudis and U.A.E. bankrolled the army-led regime that toppled it.
Qatar also hosts Hamas' exiled leadership as well as Taliban officials.
"They have been supporting some groups in the Syrian and Libyan nightmares, which the Egyptians, the Saudis and the U.A.E. have real problems with," Sullivan said. That, along with its ties with Iran, show that "Qatar is punching above its strategic weight," he said.
Saudi Arabia and Iran are on opposite sides of conflicts from Syria to Iraq. In 2015, the kingdom assembled a coalition of Sunni-led countries to fight Yemeni Shiite rebels loyal to Iran after they toppled a Gulf-backed government.
Mehran Kamrava, director of the center for international and regional studies at Georgetown University in Qatar, said Saudi Arabia and the U.A.E. see an opportunity to assert their influence after Trump's visit.
"Internal differences and disagreements are nothing new, but what is interesting is the timing and the somewhat unprecedented level of pressure," he said. That suggests that "Saudi Arabia and the U.A.E. want nothing but complete submission from Qatar.''
— With assistance by Mohammed Sergie
Before it's here, it's on the Bloomberg Terminal.
LEARN MORE