business
Larry Fink Says Europe Has Brighter Economic Outlook Than U.S.
By
Signs point to lackluster U.S. second-quarter GDP, he says

Europe may grow faster because of Trump policy uncertainty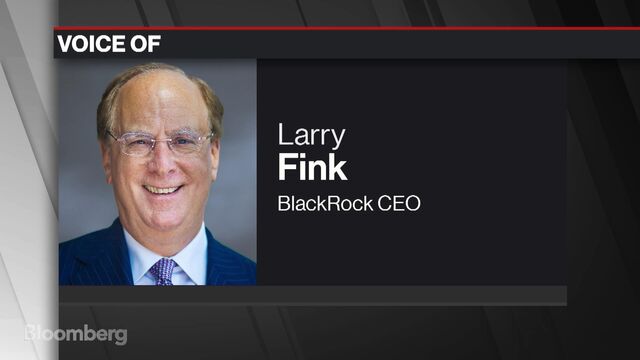 The U.S. economic outlook is looking worse because of uncertainty over tax and infrastructure policies while Europe is looking stronger, according to BlackRock Inc.'s Larry Fink.
"Europe will grow as fast as the U.S. if not faster this year, which is a big surprise," Fink, chief executive officer of the world's largest asset manager, said Tuesday during an investing conference in New York.

U.S. growth in the "mid-2s is not happening," while Europe will likely grow at the mid-2.5 percent rate this year, he said. That forecast stands in contrast to estimates compiled by Bloomberg which foresees U.S. gross domestic product increasing 2.2 percent in 2017 and 1.8 percent in the European Union, according to data compiled by Bloomberg.
Markets in the U.S. soared after the election of President Donald Trump, betting on his ability to bring about pro-corporate tax reforms and infrastructure spending, which hasn't materialized, according to Fink.
"I'd say the second quarter is going to be disappointing in terms of earnings and growth," Fink said. "It'd tell me markets are probably fully priced at this moment."
Another warning sign for markets is slower than anticipated economic growth in the second quarter following a 1.2 percent GDP increase in the first quarter, Fink said during an interview in New York with John Cryan, CEO of Deutsche Bank AG.
Until corporate CEOs see more certainty from the Trump administration, they're unlikely to step up investing, he said. By contrast, Europe led by France's Emmanuel Macron and Germany's Angela Merkel, has more policy certainty, even as the continent negotiates the exit of the U.K. from the European Union, he said.
"Brexit is worse for the U.K. than Europe," he said.
Other comments by Fink:
Investing in passive funds will grow because of the U.S. Department of Labor's fiduciary rule, which is expected to take effect in June
Many active managers use passive or indexed exchange-traded funds to actively allocate their investments, a trend likely to accelerate
Exchange traded funds don't present higher risk of market illiquidity or volatility than other investments
Before it's here, it's on the Bloomberg Terminal.
LEARN MORE