Deutsche CEO Says Europe Must Fight U.S. Mortgage Capital Rules
By
Housing markets differ as 'Germans pay their debt,' Cryan says

Comments reiterate German criticism of proposed Basel measures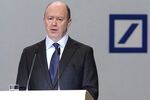 Deutsche Bank AG chief John Cryan urged regulators in Europe to reject the same kind of heavy-handed rules for banks' mortgage holdings that have been adopted by their American counterparts.
Home loans vary by country and differences in borrowers' repayment behavior justify a more nuanced approach, rather than imposing the same sets of capital charges on all banks' mortgages, Cryan said Tuesday at an investor conference in New York. "By and large, Germans pay their debts" and are nowhere near as risky as American lenders and home-buyers have been in the past, he said.
"For Europe to surrender, to accept U.S. mortgage capitalization rules, I think would be inappropriate," the Deutsche Bank chief executive officer said. "So to price them as though they were Californian subprime mortgages from 10 years ago is not appropriate."
Cryan's comments add to a simmering debate between European Union and U.S. officials over how to best construct new global capital rules for banks in a way that most appropriately account for their risks. The CEO evoked remarks made over the weekend by German Chancellor Angela Merkel to push his point that Europeans should not bend to U.S. pressure. German banks have been vocal critics of the proposed regulations, which are being discussed by the Basel Committee on Banking Supervision.
'Biggest Outrage'
The pending rules build on a set of international banking accords that gained new significance after the 2008 financial crisis, which was in part caused by toxic home loans in the U.S. Some of the measures, part of the completion of Basel III, effectively increase the capital backing mortgages held on banks' balance sheets to ensure that lenders can weather another economic downturn. 
A key element of the regulation includes a curb, called an output floor, to ensure that big banks don't understate risks. The Basel Committee members, including the U.S. Federal Reserve and the European Central Bank, are still debating the level of the floor, but have rejected the possibility of it applying differently to certain products, such as mortgages. The panel instead backs the "simplest form -- an 'aggregate' output floor" on all of a bank's assets.
Cryan called the proposed treatment on home loans "the biggest outrage" on Tuesday, saying it could put European banks at a disadvantage compared with U.S. rivals. If European regulators adopt stricter measures, the Frankfurt-based lender "would continue to be cautious about the deployment of capital in German mortgages," he said.
Raised Capital
Deutsche Bank has previously tried to sell its Postbank unit, whose business is mostly making home loans in Germany. It had said that because looming rules would make the lending less attractive from a capital stand point.
In addition to the output floors being discussed in Basel, an already decided capital standard that treats all assets the same risk -- called the leverage ratio -- makes mortgages costlier from a capital perspective. Germany has been the strongest opponent of the floors because its biggest banks would be affected more than other large lenders.
"Counter to Ms. Merkel's speech at the weekend, Europe in the past few weeks has decided to subject itself to U.S. pressure," he said, referring to U.S. regulators that have pushed for stiffer rules than his European counterparts and remarks by Merkel about Europe charting its own course in international affairs.
— With assistance by Steven Arons, Boris Groendahl, and Yalman Onaran
Before it's here, it's on the Bloomberg Terminal.
LEARN MORE