Bullard Says Jury Out on Washington Policy Meeting Market Prices
By
Stocks have risen since election amid tax-change expectations

Bullard repeats stance that rates are close to right level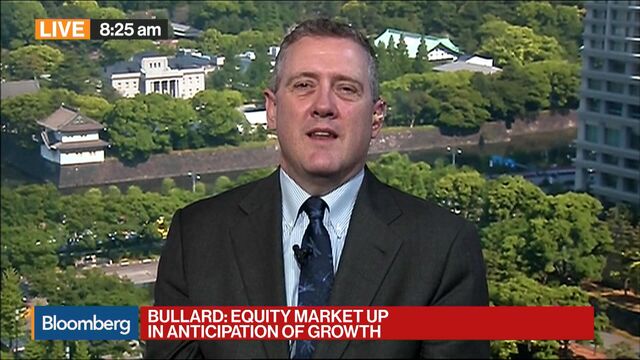 Federal Reserve Bank of St. Louis President James Bullard said that at some point the honeymoon period will come to an end and Washington will need to deliver on the policy expectations that have driven the stock market higher.
"The equity markets are up a lot in the U.S. since the election. My interpretation is that a lot of that is in anticipation of corporate tax changes and possibly personal tax changes that are afoot in the U.S.," Bullard said in an interview on Bloomberg TV in Tokyo on Tuesday. "And all by themselves those tax changes would revalue the U.S. corporate sector on the order of 10 to 15 percent, which is about what has happened since the election."

"The business confidence numbers shot up after the election. The president was perceived as more pro business than the previous administration," Bullard said. "Washington does have to deliver at some point and I think that is a concern going forward, whether the honeymoon period would end at some point and maybe the reality of American politics would settle in. We'll see if that happens or not. I think the jury is out on all that."
He also noted that the "the dollar has weakened a little bit." This was because of the changes in perceptions of policies of other central banks in tandem with U.S. monetary policy," he said.
Bullard, who does not vote on the Federal Open Market Committee this year, is one of its most dovish officials. He repeated his view that rates are already quite close or just a little below where they need to be. He rejected the idea that 200 basis points of hikes would be in order.
"I think the first half of 2017 will be relatively ordinary -- GDP growth of around 2 percent," Bullard said. "The idea that the economy is growing a lot faster than trend and that this going to push up inflation, I don't think is matching up with the numbers that we're actually seeing."
Read more: Confusion on economy shaping the Fed debate.
Bullard agreed with recent comments by Federal Reserve Bank of San Francisco President John Williams that the process of unwinding the balance sheet should come in baby steps.
"The runoff in the balance sheet will go very smoothly," said Bullard. "It's going to be managed, it's going to be slow."
He added that the communications problems that led to the 2013 "taper tantrum" wouldn't be repeated, and also that there would be some kind of monthly cap on the runoff.
Watch Next: Fed's Bullard on Policy, Inflation, Balance Sheet
Before it's here, it's on the Bloomberg Terminal.
LEARN MORE