Balance of Power: May Loses Steam
By and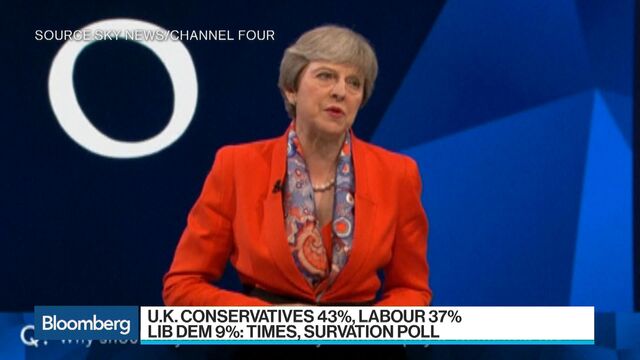 Theresa May's decision to call early U.K. elections seemed a safe bet as recently as two weeks ago.
It now looks like the move could backfire on the famously risk-averse premier.
Polls show Jeremy Corbyn's Labour Party eating into May's lead of some 100-plus parliamentary seats. The prime minister has asked voters for a stronger mandate to bolster her hand in Brexit negotiations, but she could see her majority cut from 17 to just 12 lawmakers in the 650-seat chamber, according to a Bloomberg indicator.
There's not much doubt May will still win on June 8. But her hesitant performances and a rapid retreat from plans to cut benefits for wealthy retirees have sown doubts among senior members of her own party. They worry that her touch has deserted her as she prepares to steer Britain into the most important negotiations in 40 years.
"If I was in Brussels," veteran interviewer Jeremy Paxman put to her on Monday, "I would think you are a blowhard who collapses at the first sign of gunfire."
Sign up to receive the Balance of Power newsletter in your inbox, and follow Bloomberg Politics on Twitter and Facebook for more.

Global Headlines
Trump's inbox | After nearly nine days abroad, President Donald Trump must now contend with a probe reaching into his inner circle. Trump said he had "total confidence" in his son-in-law after reports emerged that Jared Kushner considered setting up a secret line of communication with Russia. NBC reported that Kushner has been asked to "lay low." 

Alive and unwell | Angela Merkel, who managed to get on well with former U.S. President George W. Bush when others couldn't, seemed especially despondent after spending three days with Trump. The sky has not quite fallen in on the system of global governance the U.S. did so much to construct. However, as Marc Champion writes today, it is in deep trouble. 

Whistlestop diplomacy | Fresh off the Trump meetings, Merkel hosts Narendra Modi of India and Chinese Premier Li Keqiang in quick succession as she prepares for the G-20 summit she'll host in July. These are long-arranged events, but given she said Europe can no longer rely on the U.S., it's hard not to see it as an attempt to line up allies on free trade and climate change.

Zuma quashes ANC revolt -- again | South African President Jacob Zuma survived another rebellion in the ruling ANC as a bid by senior leaders to oust him fizzled. His escape strengthens his hand to pick his own successor as party leader in December. The rand weakened on concerns the economy will pay the price for the party's power struggles. 

Kim on target | North Korea claimed a potentially big advance during its latest missile test, with state media saying the rocket fell within seven meters of its mark. If true, the launch  "is scary news for the U.S.," said Suh Kune Y., a professor in Seoul National University's department of nuclear engineering. 

Vietnam's hard sell | Prime Minister Nguyen Xuan Phuc faces a huge challenge at the White House on Wednesday, as he attempts to convince the man who torpedoed the Trans-Pacific Partnership to prioritize trade talks with Vietnam. Phuc told Bloomberg in an interview that he's going to sell the former U.S. foe as a big market for high-end American goods. 

Goldman panned by Venezuelan opposition | Goldman Sachs was denounced over a report that the bank bought $2.8 billion of Venezuelan bonds, potentially throwing President Nicolas Maduro a lifeline amid accusations of human-rights violations. "Goldman Sachs decided to make a quick buck off the suffering of the people," said Julio Borges, head of the National Assembly. Goldman, which bought bonds on the secondary market, said it made the investment "in part because we believe" life in Venezuela will get better.

And finally... France is talking about the emergence of the "Sun President," as Emmanuel Macron seeks to revive the majesty of the state. Louis XIV, the original Sun King, consolidated the power of the monarchy in the 17th century and Macron chose Louis's Palace of Versailles for a meeting with Russia's Vladimir Putin. He played that history up as they walked through a gallery hung with paintings of military triumphs, recalling his choreographed election-night stroll across the courtyard of the Louvre.

Before it's here, it's on the Bloomberg Terminal.
LEARN MORE