Your Evening Briefing
Bloomberg News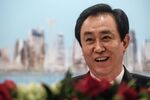 Want to receive this post in your inbox every afternoon? Sign up here.

China Evergrande Group's astonishing share rally has resulted in the world's most painful short this year, and to add insult to injury, bearish investors are paying higher fees to get crushed. The stock soared as much as much as 27 percent to an all-time high on Monday and has more than tripled this year, hurting short-sellers and baffling even some of the most bullish stock analysts. Hui Ka Yan, the company's chairman, isn't feeling much pain, however. The increase in share price has made him  a whole lot richer. The billionaire has seen his fortune surge by at least $10 billion this year, and that figure doesn't include Monday's gains. Hui's riches have risen faster in 2017 than those of billionaires such as Larry Page and Sergey Brin, the co-founders of Alphabet, and Microsoft's Bill Gates. —Brent O'Brien
North Korea conducted another missile test early Monday, which may have reached waters in Japan's exclusive economic zone. The missile, which appears to be a Scud variant, was fired at 5:39 a.m. and flew 450 kilometers (280 miles). It came two days after the Group of Seven nations pledged to "strengthen measures" aimed at prompting North Korea to cease nuclear and ballistic missile tests. 
Australia's enviable economic track-record is on shaky ground.  The "lucky country" has managed to avoid two straight quarters of contraction since 1991, but recent weak signals are forcing economists to revisit their first-quarter growth forecasts. Some are even suggesting a contraction.

Thailand to take on Singapore with an airport overhaul. The nation's ruling Junta wants to take on Singapore's dominance as an aircraft maintenance hub with a $5.7 billion upgrade of a Vietnam War-era airport. The project at U-Tapao International Airport is part of junta leader Prime Minister Prayuth Chan-Ocha's goal of boosting the economy, whose expansion has lagged behind neighbors since the military seized power three years ago.

Hong Kong is struggling to control its red-hot property market, if snaking queues of thousands of prospective buyers are any indication. People were lining up on Friday and over the weekend at Victoria Skye and Ocean Pride, two new developments in the city.  Hong Kong Monetary Authority Chief Executive Norman Chan said on Monday levels of demand were reminiscent of 20 years ago — before Hong Kong suffered a property bust.

Donald Trump lashed out at the "fake news" media in a series of Twitter messages on Sunday after wrapping up his first foreign trip as president. Trump was the only leader among the G-7 who declined to  face the press in Sicily. It was a breach of custom at a major global event where the U.S. president traditionally faces the press at the end, and often during the trip as well.

Three homemade cocktails for the beach. Drinking in the sand with waves lapping at your feet is one of life's many joys, but it's not always easy to pull off. Have you ever tried to bring bubbly and ended up with lukewarm fizz? John deBary used his years of experience both bartending and beach-drinking to come up with a solution: batching. Here are his recipes.

Quotes from this Article
Before it's here, it's on the Bloomberg Terminal.
LEARN MORE