Argentine Union Threatens to Restart Strike at Barrick Mine
By and
Feud is about three-quarters of way to being resolved: union

About 2,500 miners were on strike for 35 hours, union says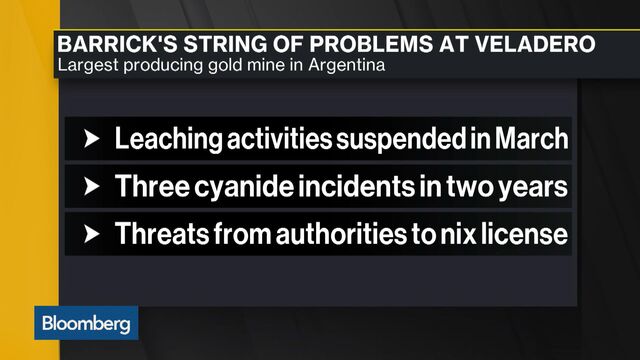 Miners at Barrick Gold Corp.'s Veladero gold operation in Argentina will resume a strike next month if talks with management fail to resolve a contractual feud, a union leader said.
Barrick and the AOMA union were set for a third round of talks, AOMA Secretary General Hector Oscar Laplace said Monday in a telephone interview from Buenos Aires. The dispute over contracts for outsourced workers is about three-quarters of the way to being resolved, he said.
The union's 1,500 members at Argentina's biggest gold mine, plus another 1,000 workers, went on strike for about 35 hours through 11 a.m. Monday, paralyzing operations, Laplace said. They returned to work after authorities set a negotiating period of 15 working days. San Juan will oversee the talks, but if there is no resolution by June 19 the strike will resume, Laplace said.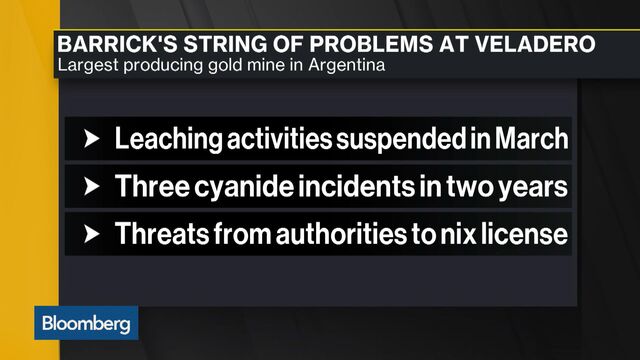 As of April, Barrick employed roughly 4,100 workers at Veladero, working on rotating shifts, including more than 2,700 contractors, spokesman Andy Lloyd said by email. Of those, just over 1,000 are registered with the AOMA union, whose members include the operators of heavy machinery.
While Barrick didn't give details on the strike's impact on production, it said normal work resumed after formal talks began and that union representatives had agreed not to impede construction work at the leach-pad area during the strike. The company still expects to resume normal leaching activities in the second half of June, subject to approvals. 
Barrick is making improvements to the leach-pad area after a pipe ruptured, leading to a suspension of leaching activities on March 29. The third incident involving cyanide solution in two years triggered threats from authorities to rescind its license and prompted company officials, including Executive Chairman John Thornton, to travel to Argentina to oversee the response.
Positive Light
The setbacks at Veladero threaten to undermine efforts to cast mining in a more positive light in other Argentine provinces where the use of cyanide and open-pit operations are banned or face community opposition. President Mauricio Macri's government is working with the provinces to introduce a common set of rules to lure more investment.
In April, Barrick announced it was selling half of Veladero to China's Shandong Gold Mining Co. for $960 million. Since then, Barrick's quarterly earnings report showed 2017 costs will be higher than previously expected at Veladero, while production will be lower. On May 16, Shandong scrapped plans for a share sale to fund Veladero's purchase but said it still plans to go ahead with the deal.
Besides the leach-pad modifications, Barrick said it's also developing programs to increase benefits to local communities through greater local hiring, local supplier development and training and development programs.
Barrick rose 0.6 percent to C$22.20 at 11:11 a.m. in Toronto. The shares have gained 3.3 percent this year.
Quotes from this Article
Before it's here, it's on the Bloomberg Terminal.
LEARN MORE