Cooling Real Estate Dents Canadian Consumer Confidence
By
Measure of home price expectations tumbles from record in May

Confidence on economy falls to lowest since November: survey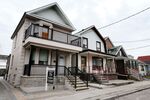 Canadians became less confident this month about housing and prospects for the economy amid the troubles of a Toronto mortgage lender, according to telephone polling.
The Bloomberg Nanos Canadian Confidence Index fell to 58.5 in the week ending May 26. That's down from 59.4 at the end of April, the first monthly decline in four. The share of respondents who felt home prices would rise dropped to 45.5 percent, from a record 50.1 percent this month.
Sentiment has suffered after mortgage lender Home Capital Group Inc. sought refinancing after a run on its deposits, and Moody's Investors Service downgraded Canada's largest banks. Toronto's market has also shown signs of cooling after Ontario Finance Minister Charles Sousa imposed a foreign buyer's tax to clamp down on speculation.
"Recent declines in consumer confidence scores were most likely to be driven by a cooling of real estate sentiment after hitting a high in early May," Nanos Research Group Chairman Nik Nanos said in a report Monday.
Canadians are also losing faith in the economy. Some 19.3 percent said it would strengthen in the next six months, down from 24.3 percent a month earlier and the lowest reading since November.
Trade Tensions
Statistics Canada is due to report gross domestic product on Wednesday. Economists predict first quarter growth quickened to a 4.2 percent annualized pace. However the Bank of Canada said last week it expects growth to moderate, and the prospect of more trade tensions with the U.S. is looming, after President Donald Trump started a 90-day consultation before opening talks on the North American Free Trade Agreement.
Confidence in Ontario, which has relied on real estate and factory exports to the U.S., declined to 60.4 from 63.4 on the month.
Every week, Nanos Research asks Canadians for their views on personal finances, job security, the outlook for the economy and where real estate prices are headed. The responses are compiled into a gauge of consumer sentiment, the Bloomberg Nanos Canadian Confidence Index.
The latest edition showed more enthusiasm in the job market, with the 49.4 percent of respondents calling their jobs secure up from 48.3 percent a month ago.
The confidence index is based on telephone polling with a four-week rolling average of 1,000 respondents, and is considered accurate within 3.1 percentage points, 19 times out of 20.
— With assistance by Erik Hertzberg
Before it's here, it's on the Bloomberg Terminal.
LEARN MORE