Italy Moves Toward Early Vote as Election Law Deal Nears
By and
With voting rules deal in sight, vote may be called in autumn

Renzi wants to vote before tough budget law, analysts says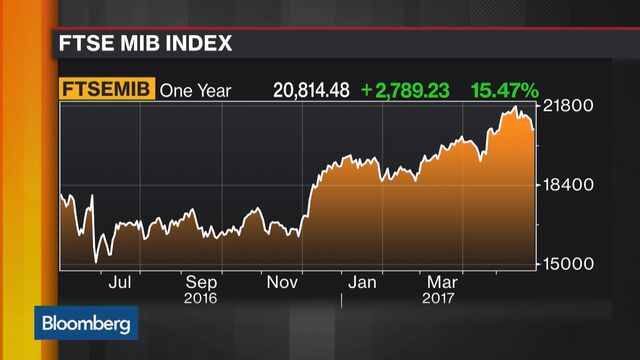 The path is beginning to clear for Italians to head back to the polls as the country's main political parties near a deal on a new electoral law.
Italy's biggest parties are considering a proportional system similar to the German model with a 5 percent cut-off for smaller parties, and lawmakers are due to discuss a first draft of the new law early next month. An agreement would remove any hindrance to snap elections, eliminating the need to wait for scheduled elections in early 2018.
"Momentum is building among political leaders and is pushing towards early elections but it will be an uphill battle against the president and parts of the rank-and-file in the parliament," Giovanni Orsina, a professor of government at Rome's Luiss-Guido Carli University said in a phone interview.
Former Prime Minister Matteo Renzi is among those making the case for an early ballot as he seeks a political comeback from the referendum defeat that led him to resign in December.
Renzi told newspaper il Messaggero in an interview published Sunday that a vote in the autumn, around the same time as Germany's federal election, would reduce market uncertainty, while waiting longer would increase the scrutiny on Italy's economic and financial woes. He also said his Democratic Party is not pushing for early elections, though it isn't afraid of them.
Italian bonds have been the worst performers in Europe this week following Renzi's comments. Since Monday the yield on Italian 10-year bonds has risen nine basis points to 2.19 percent, pushing the yield spread over German bunds to 189 basis points. Italy's FTSE MIB benchmark index was down 0.7 percent at 10:30 a.m. in Milan on Tuesday, with banks leading losses.

Investors including BlackRock Inc and Goldman Sachs Group Inc. say they see Italy as the next focus of regional political risks after France, while Citigroup Inc. sees the spread possibly widening to as much as 300 basis points, the highest since 2013.
Presidential Doubts
Ultimately, it's up to Italian President Sergio Mattarella to make the call on when to dissolve parliament. According to Italian newspapers including Corriere della Sera, Mattarella would prefer to let the government of Prime Minister Paolo Gentiloni, 62, a soft-spoken diplomat and Democratic-Party ally of Renzi's, stay in power until next year.
While an early vote would put an end to a legislature that already saw three governments in power amid palace coups and constitutional-referendum defeats, a proportional system runs the risk of producing a hung parliament. An election this year would come at a delicate time for Italy, with its banking woes unresolved and the budget law for 2018 still to be approved.
'Renzi's Rush'
"Mattarella's concerns are understandable but Renzi doesn't want to be the scapegoat for voter anger," Franco Pavoncello, president of John Cabot University in Rome, said in a phone interview. "If Gentiloni's party passes the budget law, which is likely to be tough and unpopular, Five Star could benefit, hence, Renzi's rush."
The latest electoral polls show Renzi's party neck-and-neck with the anti-establishment Five Star Movement both at around 30 percent. Only two other parties are above the 5 percent cut off-limit being considered for the new electoral law and neither are an easy fit for an alliance with the eventual winner: former Prime Minister Silvio Berlusconi's Forza Italia and the anti-immigrant Northern League both at 13 percent.
The proposed new law "would likely not facilitate an outright victory by one of the three major political groups" resulting in a hung parliament, said LC Macro Advisers Ltd. founder Lorenzo Codogno who sees the likelihood of early elections at 60 percent.
— With assistance by David Goodman, Marco Bertacche, and Stefania Spezzati
Before it's here, it's on the Bloomberg Terminal.
LEARN MORE