South African President's Ouster Not on Agenda at ANC Meeting
By
'No blood on the floor yet,' ANC's Mantashe tells reporters

Zuma's removal will be discussed, senior officials have said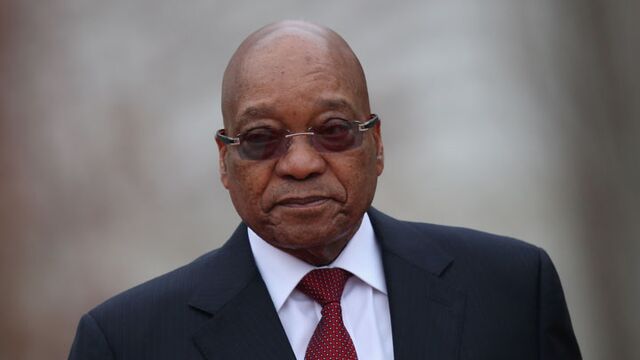 There's no plan to discuss the potential ouster of South African President Jacob Zuma at a meeting of the ruling party's decision-making national executive committee this weekend, an event that's being held as his leadership draws more criticism.
"We've not seen blood on the floor yet," African National Congress Secretary General Gwede Mantashe told reporters on Saturday in Pretoria. Zuma's removal "is not an agenda item," he said before the closed-door meeting.

The issue could still be raised during the three-day meeting and discussed, two senior party officials who will be in attendance said this week. While only Parliament can legally force the president from office, the NEC could instruct Zuma to resign, as it did Thabo Mbeki in 2008. Zuma, 75, survived a bid to remove him at a similar meeting in November.
The president is facing an unprecedented level of opposition from within the ANC and its labor and communist supporters following his firing of respected Finance Minister Pravin Gordhan at the end of March. Cyril Ramaphosa, the vice president and a potential Zuma successor, has said the country is at risk of becoming a "mafia state," echoing a report by the South African Council of Churches earlier this month.
That report isn't on the NEC's agenda either, Mantashe said.
Zuma's decision to fire Gordhan and make 19 other changes to the executive swelled the ranks of his opponents and prompted S&P Global Ratings and Fitch Ratings Ltd. to downgrade the nation's sovereign credit rating to junk.
Gordhan's replacement, Malusi Gigaba, is at the center of alleged efforts by the president and his allies to raid state assets and reap billions of rand from government contracts, a study by eight leading academics from four of the nation's top universities found this week. Gigaba spokesman Mayihlome Tshwete said the report "has little, if any, facts."
Before it's here, it's on the Bloomberg Terminal.
LEARN MORE