Labour Vows More U.K. Police, Intelligence Staff to Reverse Cuts
By
Corbyn pledges 17,000 police, fire, prison, border officers

Policing issues highlighted after Manchester terrorist attack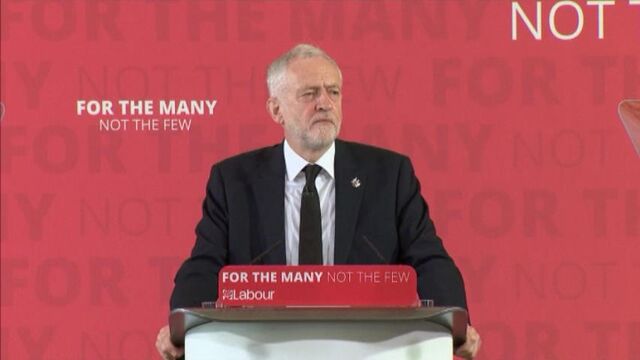 U.K. opposition Labour leader Jeremy Corbyn promised his party will boost police, intelligence and security staff after criticizing Theresa May's government for cutting police budgets as the Manchester terrorist attack became the central issue of the election campaign.

The party will add 17,000 officers and staff, including 10,000 police, to reverse the impact of Conservative cuts, according to an emailed statement from Corbyn's office.
"Labour will recruit additional police officers, additional firefighters, additional prison officers and additional border guards," Corbyn said. "Labour will also increase staffing levels at the security and intelligence agencies -- GCHQ, SIS and MI5 -- in order to better ensure our collective safety."
As polls showed the Tories lead over Labour narrowing with less than two weeks before the vote, security and policing became the focus as campaigning resumed following a three-day pause after Monday's attack that killed 22 people. Corbyn on Friday linked U.K. military action abroad to terrorism at home, and put the focus on May's previous role as home secretary, the office that has oversight of the police. 
On May's watch, the number of police officers in England and Wales fell about 15 percent to 122,850, as of September. May rebutted his claims by accusing Corbyn of saying Britain had brought terrorism upon itself.
Labour said it was targeting an additional 3,000 firefighters, 3,000 prison officers, 1,000 security and intelligence agency staff and 500 border guards.
  
Labour also will ensure the health service, schools and colleges receive adequate resources, Corbyn's office said. The party will renew its commitment to uphold individual rights and civil liberties.
May, in a statement Saturday, pledged to set up a statutory body to fight non-violent extremism and promote "pluralistic" British values and women's rights, and which will advise government on what laws or penalties are needed to combat extremist behavior.
Before it's here, it's on the Bloomberg Terminal.
LEARN MORE