Your Evening Briefing
Bloomberg News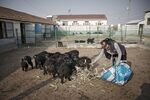 The evening briefing will soon be available in your inbox every day. To be among the first to get it, sign up here.

Friday marks the final day of our Feeding China series, focusing on the nation's epic race to avoid a food crisis. Today's feature looks at "plant factories," urban farms and crop labs that are churning out clean food in dirty cities. About a fifth of China's arable land contains levels of toxins exceeding national standards. That's more than half the size of California. And about 14 percent of domestic grain is laced with such heavy metals as cadmium, arsenic and lead. The danger is most evident in industrial coastal provinces, where many of the world's iPhones and Nikes are manufactured. This toxic buildup makes the work of trailblazing scientists  all the more important in securing China's food future. —Brent O'Brien

The Kushners, the Saudis and Blackstone. When Saudi Arabia last week announced a $20-billion investment in a U.S. infrastructure fund managed by Blackstone Group LT, many noticed that it came shortly after the U.S. president's son-in-law Jared Kushner personally negotiated a $110-billion arms sale to the country. What went unnoticed — and is largely unknown — is how important Blackstone is to the Kushner family.

Money is spilling out of China's big cities and snapping up property in smaller ones in far-flung regions of the country. The spreading demand underscores the enormity of the task ahead for China's leaders: reining in the markets without tanking the economy. The risk that China could fail to keep that tricky balance was at the core of Moody's downgrade earlier this week. 

India's highest grossing film didn't come from Bollywood. "Baahubali 2: The Conclusion" has pulled in a box office record of over $248 million since its April 27 release by appealing to moviegoers across India. The south Indian film's success demonstrates the growing challenge regional moviemaking is posing to Bollywood's dominance in the world's most prolific cinema market. 

A dealmaker who bet big on Duterte is building an empire. Dennis Uy, an oil trader from Davao City who counts the Philippine president as a family friend, has rapidly expanded into industries from shipping to elections since last year's election. Once on the fringes of the nation's business elite, he's now co-investing with the country's richest family and is often seen socializing with billionaires.

China's biggest developers are betting on $2,400 nose jobs. A cosmetic surgery palace is among the latest gambles by China Evergrande Group, one of the nation's indebted developers. With the rapid growth of the property market expected to slow in the coming decades, companies such as Evergrande and Dalian Wanda Group are pouring billions into this new strategy to boost profit. 

What's the best trip Richard Branson has ever taken? It was a trip of a lifetime, involved a 2,500-kilometer bike ride, and the Virgin founder had to get in great shape first. You'll probably have to take some deep breaths just reading about it. 

Before it's here, it's on the Bloomberg Terminal.
LEARN MORE