Britain's Whipsawing Election Polls, Explained: QuickTake Q&A
By and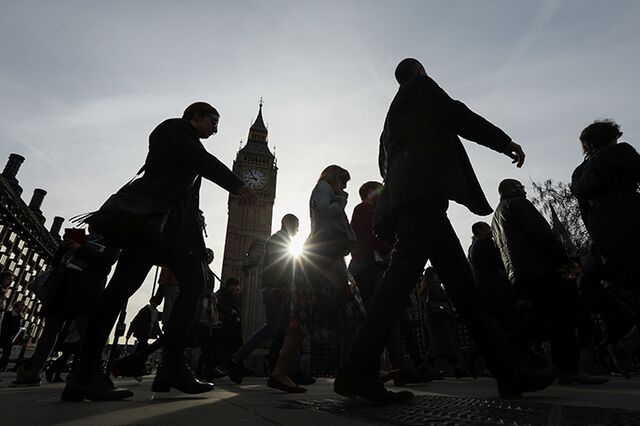 In the run-up to an early U.K. general election, markets moved when polls began to show Prime Minister Theresa May's once-dominant lead crumbling. More recent surveys are all over the map, after a pause in campaigning following a terror attack Saturday in London. The June 8 vote will influence how, if not whether, Britain carries out its Brexit from the European Union, and who will be at the negotiating table. 
1. Is May going to win?
It depends on what you count as a win. A Bloomberg survey of pollsters published June 1 pointed to the ruling Conservative Party widening its majority to at least 40 seats, though at least one projection suggests Britain could face the specter of a hung Parliament, with no party in overall control. That's up from a 17-seat advantage for the Tories now in the 650-member House of Commons.
2. Is that enough?
May's party had a lead in the polls of more than 20 percentage points when the snap election was announced April 18. That created the expectation of a landslide that would give the Tories a majority well north of 100 seats. If May winds up with a majority far short of that, a lot of her lawmakers will be asking why she didn't do better.
3. Have the terror attacks affected the polls?
No, according to Ben Page, chief executive of pollster Ipsos Mori. "People have formed their views" of May and Labour Party leader Jeremy Corbyn and are "pretty much sticking where they were before," he said on Bloomberg Television. This hasn't stopped the two main parties from going on the offensive over security, with Labour pointing to policing cuts while May was home secretary and the Conservatives criticizing Corbyn's stance on terror.
4. What happened to May's expected runaway?
It's not so much that the Tory vote has collapsed -- it's still polling around 43 percent -- as that Labour has enjoyed a remarkable turnaround. It's pushed up from 25 percent or so to around 36 percent, with Corbyn making inroads with a skeptical public, cutting a better figure than May in some TV appearances. The slow collapse of May's lead has been the story of the campaign. Still, Labour officials and candidates say the party is privately preparing to lose dozens of seats.

5. What's gone wrong for May?
In the early weeks, she seemed to be doing incredibly well, attracting large numbers of supporters from the Brexit-pushing U.K. Independence Party. Then came a U-turn on one of her central manifesto pledges, to make elderly people with more than 100,000 pounds ($130,000) in assets pay for the long-term cost of their care. May has also faced scrutiny over her time in the Home Office, the department that oversees domestic security, following two terror attacks on British soil in two weeks.
6. Is Corbyn striking a chord?

Rather than pit the credentials of Corbyn against May, Labour has argued that it offers a different kind of leadership, based on consensus. With May bidding for a big majority to help her deliver Brexit, do voters want a Parliament that's overwhelmingly Tory, or do they want a balance of power? While the Tories argue Labour's policies don't add up, many of their manifesto proposals -- increasing tax on corporations, taxing the wealthy and nationalizing railways -- are popular with voters still feeling the pinch from the 2007 global financial crisis and beset by regular train delays. While much of the U.K. media don't take Corbyn seriously, he has boosted Labour membership and drawn large crowds to rallies.
7. Could there really be a hung Parliament?
On May 31, a YouGov Plc model shook markets when it showed May losing her majority. An updated projection from the firm on Tuesday had Corbyn winning between 230 and 300 seats in the 650-seat House of Commons. However, the polling firm emphasizes that its model is neither a poll nor a prediction of how people will vote, but rather an attempt to solve the problem of forecasting how votes turn into parliamentary seats. Seat forecasts are notoriously difficult in an election where there are a lot of tight results.
8. Can polling results be trusted?
It's hard to say. After pollsters got the 2015 election badly wrong, an investigation concluded the main reason was unrepresentative samples -- speaking to too many supporters of Labour and too few of the Conservatives who wound up triumphant. While pollsters say they've been trying to fix this, the early election called by May has caught them unprepared. One sampling challenge this year is how much weight to give to younger voters.
9. What's the issue with young voters?
Young people don't tend to vote. But this year even more millennials tried to register to vote in the general election than they did before last year's Brexit referendum. That could provide a boost to Corbyn. The question, according to Anthony Wells, a YouGov pollster, is whether polls are still overestimating younger voters or whether Corbyn "is actually succeeding in what he was aiming to do and engaging young people."
10. Are polls a good indicator of who will win?
Not in Britain's district-by-district, winner-takes-all system. The general election is actually 650 separate votes in 650 individual districts, and the leader of the party with the largest number of seats typically becomes the prime minister. So the outcome in about 100 key electoral districts matters more than the overall national vote. Local surveys in districts with the tightest margins are a better tool, but those don't tend to get published. (YouGov's district-specific projections relied on too small a sample to be considered a full-blown poll.) In the 2015 election, voters' perception of which party leader would make the better prime minister was a more accurate indicator of the result; May has been way ahead on that measure, though Corbyn has been catching up.
11. So why follow the polls now?
During the last election and the Brexit referendum campaign, most of the polls were wrong. But they were pretty consistent. With multiple polls showing a shift to Labour this time, that's probably a reliable indicator of political sentiment. As an election nears, more people tend to respond to surveys, improving the sample, says YouGov's Wells.
The Reference Shelf
— With assistance by Tim Ross, Eddie Buckle, Cecile Vannucci, and Eric Coleman
Before it's here, it's on the Bloomberg Terminal.
LEARN MORE