Cohn Acknowledges Trump Called Germany 'Very Bad on Trade'
By and
Cohn says Trump spoke about German trade, not Germany itself

Sign of distance between Trump and Europeans as summit starts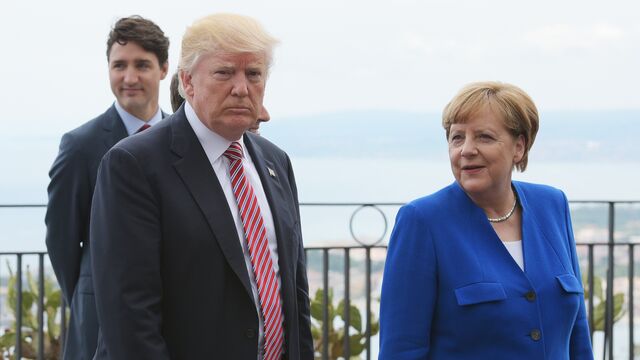 Donald Trump's top economic adviser acknowledged that the president said Germany is "very bad" when it comes to flooding the U.S. with cars, but insisted it wasn't a dig at one of the U.S.'s most important allies.
"He said, 'They're very bad on trade,' but he doesn't have a problem with Germany," Gary Cohn, director of the National Economic Council, said as Trump joined a meeting of the Group of Seven leaders in Sicily. "He said his dad is from Germany. He said, 'I don't have a problem with Germany, I have a problem with German trade'."
The comments were splashed in the German press earlier and underline Trump's distance from key allies on display in Sicily and yesterday at the NATO summit in Brussels. In a visit that included his hectoring of allies over defense spending and a rebuke by the U.K. over leaked intelligence, Trump singled out manufacturers for contributing to lopsided trade deficits.
Chancellor Angela Merkel hit back later on Friday at the close of the summit's first day, saying that she had made clear to Trump that the German trade surplus with the U.S. "is a result of the good quality of our products."
"To single out one country for attack is, I think, not so appropriate," she told reporters. "We agreed with the U.S. that we'll go over the details of the trade question intensively once more."
Trade has emerged as one of the biggest rifts between the new U.S. administration and economic powerhouses around the world. Merkel and Trump clashed in their first meeting in the White House in March, when the president lambasted ostensible German trade negotiators.
Back then, Merkel pointed out that the European Commission oversees trade talks on behalf of member states. There are few signs that the two will see more eye to eye in Sicily.
Here is a graphic of all the G-7 players and the big issues that divide them
At the family photo in Taormina, inside the ancient Greek theater, Merkel and Trump stood side by side silently and the U.S. president later hung back while the other leaders walked away chatting in smaller groups.
Trump has complained repeatedly that Germany's trade surplus with the U.S. is hurting the American economy. Germany, Europe's biggest economy, exported goods to the U.S. worth about $66 billion more than it imported last year, leading to auto producers including Daimler AG, Volkswagen AG and BMW AG having been particularly targeted.
Fifth Avenue
Back in January, in a Bild newspaper interview, he threatened luxury-car maker BMW with a 35 percent import duty for foreign-built cars sold in the country. "If you go down Fifth Avenue everyone has a Mercedes Benz in front of his house," he told Bild. Merkel shrugged the comment off, making a comparison to the prevalence of Apple iPhones in Germany.
Read more: A QuickTake Q&A on Trump's fear of trade deficits
When asked about Trump's comments on German trade as reported in Der Spiegel, European Commission President Jean-Claude Juncker confirmed the gist of them while pointing out that they'd been exaggerated due to a translation error.
"The Germans are bad, very bad," Der Spiegel cited Trump as saying, citing unidentified participants at a closed-door meeting between Trump and EU officials in Brussels. "Look at the millions of cars that they sell in the U.S. Terrible. We're going to stop that."
Merkel's government responded earlier to say that its position on trade balances "is well known,"  "A surplus is neither good nor evil -- it's the result of supply and demand," German government spokesman Georg Streiter told reporters in Berlin.
The chancellor said that it would be a late night for the officials, known as sherpas, who are working to reach a joint statement on trade for the conclusion of the meeting on Saturday.
"The sherpas are going to have to work hard tonight to see how the final text on trade shapes up," she said.
— With assistance by Kevin Costelloe, Jonathan Stearns, Patrick Donahue, Ian Wishart, Dalia Fahmy, Tony Czuczka, Helene Fouquet, Josh Wingrove, and Birgit Jennen
Before it's here, it's on the Bloomberg Terminal.
LEARN MORE