Top U.S. Diplomat Warns China to Do More to Curtail North Korea
Bloomberg News
China holds 'a lot of leverage,' State official Thornton says

Trump has 'high expectations' for progress on North Korea
A senior U.S. diplomat warned China to do more to curtail North Korea's nuclear threat even while lauding some steps taken since President Donald Trump took office.
"If China's not working with us on this major regional security threat of North Korea, where it holds a lot of cards and a lot of leverage, then there are going to be problems in other parts of the relationship," Susan Thornton, a State Department official helping oversee Asia policy, told reporters on Friday in Beijing. "There's some sense China is working to stop something worse from happening," she said, while adding that "they clearly have to do more."
Trump has praised President Xi Jinping's efforts to rein in North Korea, which relies on China for most of its trade, after the two leaders met in April. Yet Kim Jong Un has persisted with ballistic missile tests in recent weeks as he tries to develop a device that could carry a nuclear warhead to North America -- something that Trump has vowed will "never happen."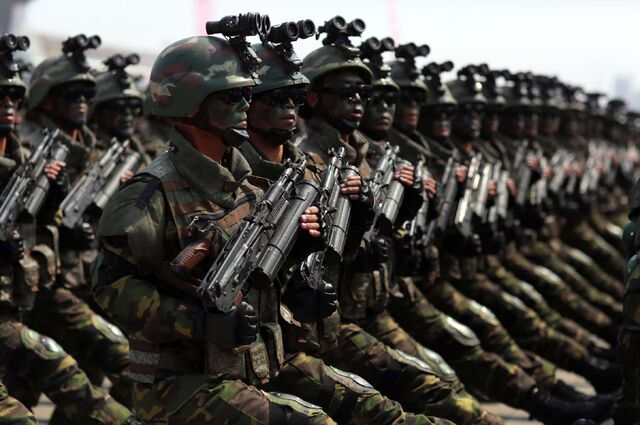 Trump "does have high expectations," said Thornton, who is acting assistant secretary for East Asian and Pacific affairs. "I think he'll be happy with the progress the Chinese have made when the Chinese manage to put enough pressure on to get the North Koreans to stop doing what they're doing."
China has sought to bring the U.S. and North Korea to the negotiating table, calling on both sides to seek a peaceful resolution of the decades-old conflict. It opposes unilateral sanctions on the regime, while saying it will implement United Nations resolutions.
Trade Ties
Trump has tied progress on North Korea to better trade terms with China, a country that he sharply criticized on the campaign trail for stealing American jobs. China this week released a 117-page document with a list of concessions that can help deliver a "win-win" trade relationship with the U.S., part of a 100-day review of bilateral ties that wraps up in July.
Thornton said on Friday that while the review is mostly about trade, Trump will also be seeking clarity on a timetable for action on North Korea.
"I don't think he meant that everything on trade is going to be rosy because they're helping us on North Korea," she said. Trump wants outcomes on North Korea "as soon as possible" and it's "not going to be a matter of years."
Thornton acknowledged China's steps to bolster security on the North Korean border, along with increased customs enforcement and its ban on coal imports. The U.S. has provided China with a list of companies that deal with North Korea and "is waiting for Chinese actions," she said, adding that the textiles industry could be an area for future sanctions.
The U.S. may be willing to talk to North Korea if it made a "clear signal," such as declaring a moratorium on missile and nuclear tests, Thornton said.
Thornton said she didn't expect the U.S.'s policy of sailing ships through contested territory in the South China Sea to affect China's willingness to help on North Korea. China said on Thursday that it warned a U.S. warship to leave waters that trespassed in waters around a reef it claims in the South China Sea. The so-called freedom of navigation operation was the first in the area since Trump took office.
— With assistance by Peter Martin
Before it's here, it's on the Bloomberg Terminal.
LEARN MORE