Pakistan Hikes Spending as Sharif Eyes Next Year's Elections
By , , and
Defense spending hiked as border tensions with neighbors rise

Pakistan's current account deficit widening, reserves falling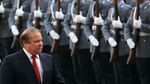 Pakistan's government raised spending 4.3 percent in a bid to accelerate economic growth before elections next year, which Prime Minister Nawaz Sharif is widely expected to contest for a second consecutive term in office.
Sharif approved an annual budget of 5.1 trillion rupees ($49 billion) targeting economic growth of 6 percent in the next financial year starting July, the highest rate in more than a decade. That's after his administration undershot an earlier estimate for this year. 
The fiscal deficit will be reduced to 4.1 percent next year from an estimated 4.2 percent this year, Finance Minister Ishaq Dar said on Friday in Islamabad, while presenting the spending plan in the National Assembly, the lower house of Parliament. Inflation will be kept below 6 percent, he said.
"Pakistan is on the path of development, very tough structural reforms have been done since government came in power in 2013," said Dar, who in a February interview pledged that the government wouldn't go on a spending binge before the election. The National Assembly will now hold a debate on the spending plan and approve it by June 30.
Widening Deficits
Sharif has ushered in a period of relative stability since averting a debt crisis in 2013 by submitting to a $6.6 billion International Monetary Fund loan program that ended in September. Pakistan's economy expanded 5.3 percent this fiscal year, missing a target of 5.7 percent. That growth rate has been underpinnned by more than $50 billion in Chinese financed infrastructure projects across the country, part of it's "One Belt, One Road" plan across Asia.
Nevertheless, South Asia's second-largest economy is starting to look vulnerable with its current account deficit tripling to $7.3 billion in the ten months through April. Foreign exchange reserves also declined 15 percent to $15.9 billion in May, after peaking at $18.9 billion in October last year. 
"Its pre-election, there is a lot going on," Ali Khalpey, chief executive officer at EFG Hermes Frontier, said in an interview in Karachi before the budget presentation. "There is only one way to fund it and that's increase the tax net for the whole economy."
Despite continual attempts, Pakistan has failed to significantly widen its tax base in recent years, despite efforts to lure more filers under the IMF reform program. Only about 1 percent of Pakistan's 200 million people pay taxes and the country has one of the lowest tax-to-GDP ratios in South Asia.
Pakistan's traditional exports, such as cotton and textiles, have also waned during Sharif's term, declining 3 percent this fiscal year despite government incentives such as a zero-rated sales tax regime for exporters in five industries.
Military Spending
One key budget beneficiary is the powerful military, which has ruled Pakistan for much of its history since gaining independence 70 years ago from the U.K. Defense spending was hiked by 9 percent to 920 billion rupees as Pakistan's relations with neighboring India and Afghanistan drastically soured this year following repeated border clashes with both nations.
Like previous years, the military will get 100 billion rupees for anti-terror offensives and to help people affected by the operations. The more than decade long fight against insurgency has cost Pakistan $123 billion, according to Dar. The government also raised bureaucrats' salaries and pensions by 10 percent.
The government may have to borrow more from Chinese banks to avoid a massive fall in foreign currency reserves, Sakib Sherani, chief executive of Islamabad-based research company Macroeconomic Insight Ltd., said before the budget announcement.
The central bank in its most recent quarterly report said Pakistan received $382 million in loans from China during the last quarter of 2016 to finance the country's "growing current account gap." Those disbursements reached $848 million in the first half of the year through June 2017.
"Exports won't be picking up, this will be another difficult year," Sherani said. "The government will go for short-term borrowing to keep reserves at decent level."
Before it's here, it's on the Bloomberg Terminal.
LEARN MORE