Noble Group's Ratings Cut Again as Debt Risk Concerns Flare
By and
Adviser Morgan Stanley now a major holder of company's stock

Fitch says refinancing of borrowing base facility 'critical'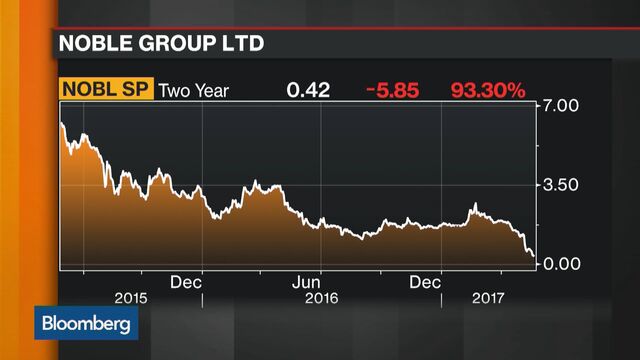 Noble Group Ltd. received a fresh blow as Fitch Ratings Ltd. cut the embattled commodity trader's rating for a second time in the space of 10 days, flagging concern over its ability to address about $2 billion of debt that matures over the next 12 months.
The Hong Kong-based company is in talks with banks to renew a borrowing base facility expiring next month, and Fitch said a successful rollover of a large part of that is "critical" for its liquidity. Fitch expects the banks will do so, but on less favorable terms, according to a statement late Thursday.
The cut from Fitch came as Morgan Stanley emerged as a major shareholder. The bank has a 7.95 percent stake, which is deemed rather than direct, at the same time that it's been mandated by Noble Group to help review its strategic alternatives. The circumstances that gave rise to the changes in the bank's interest are listed as "stock borrow," according to Thursday's statements. Nick Footitt, a spokesman for Morgan Stanley, declined to comment.
The crisis at Noble Group, which declined to comment on Fitch's cut or Morgan Stanley, has intensified this week amid rising investor concern about the company's ability to revive its business and meet debt obligations. The firm's shares and bonds have plunged after S&P Global Ratings flagged the risk of a default within a year. Muddy Waters LLC founder Carson Block has predicted that Noble Group will almost certainly have to undergo a restructuring.
'Weak Sentiment'
"The downgrade and rating watch negative reflect the need for Noble to address debt maturities of $2 billion to $2.1 billion over the next 12 months," Fitch said, cutting its score on the company and its unsecured notes by three notches to B- from BB-. "The continuous negative news about the company and resultant weak sentiment is likely to make refinancing negotiations more difficult than we expected."
The B- rating at Fitch is six steps below investment grade. Both S&P's score at CCC+ and Moody's Investors Service at Caa1 are seven steps below that level.

Noble Group's shares have lost more than 75 percent this year, with the dive deepening this month after a first-quarter loss, and ratings cuts by S&P, Moody's and Fitch, which had reduced its assessment on May 16. The Singapore-listed shares ended level at 42 Singapore cents on Friday, valuing the company at S$551 million ($398 million).
"It's unusual for a rating agency to cut a company twice in such a short space of time and by that many notches," said Annisa Lee, the Hong Kong-based head of Asia ex-Japan flow credit analysis at Nomura International (Hong Kong) Ltd. "I don't see this happening very often."
Multiple-notch rating changes do occur "when exceptional circumstances warrant it," Fitch said in an emailed statement Friday, citing the challenges faced by Noble Group, including the debt maturities coming due, as well as negative news and weak sentiment.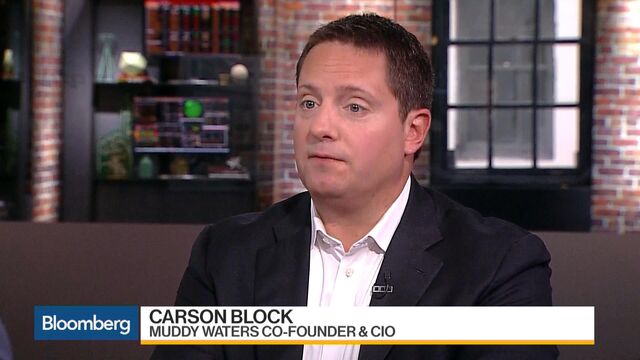 The maturities Noble Group faces between next month and May 2018 comprise $600 million of secured debt, a $1.1 billion unsecured term loan and $380 million of senior notes, according to Fitch. The agency noted the "strength of Noble's balance sheet, with a high working capital/total debt ratio, low portion of secured debt and significant amount of assets available to pledge."
While Noble Group will probably be able to refinance the credit facility due next month, banks may cut the amount offered and make terms more costly, according to Morningstar Asia Ltd. An inability to get any refinancing would lead to a worst-case scenario of potential default, it said in a note.
Before it's here, it's on the Bloomberg Terminal.
LEARN MORE