May, Macron Clash on Timetable for Brexit Talks in First Meeting
By and
Macron tells May U.K.'s exit bill must be settled before trade

May says trade talks and exit terms must be discussed together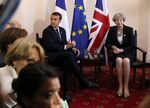 He went the extra mile, speaking in her native English and offering his heartfelt support to Theresa May in the fight against terrorism after Monday's attack in Manchester.
But not even Emmanuel Macron, the new darling of the G-7, could charm the prime minister into softening her hard-line stance on Brexit.
Britain's impending break with the European Union was a point of tension with France when the two leaders met for the first time since Macron's election victory, in a 15th-century former monastery in the historic town of Taormina, Sicily.
"The UK and France have always had a long and deep relationship and there is much that we can do together," May told Macron in front of reporters at the start of their meeting. With the press out of the room, May said she wants simultaneous discussions on the terms of the U.K.'s exit and a new free-trade deal with the bloc.
Early talks should include the fate of 3 million EU citizens living in Britain and the size of any so-called exit bill the country will pay, May said, according to a briefing from her office.
In his opening statement in front of the media, Macron said he was "very happy to have the opportunity to chat" with May, because the ties between Britain and France affect "hundreds of thousands of people living in your country, in our country, and sharing our lives."
But away from the television cameras, the new president made good on his promise to prioritize the unity of the EU as Britain pulls away. He stuck to the agreed position among the 27 remaining member states that the U.K. won't get to talk trade until it agrees first to settle its obligations, including the exit bill, according to a French official.
Before it's here, it's on the Bloomberg Terminal.
LEARN MORE