Jokowi Seeks to Bolster Police After Indonesia Suicide Attacks
By and
New laws would give police sweeping power to arrest and detain

Authorities would also get permission to take away citizenship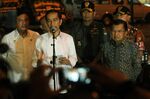 Indonesian lawmakers should expedite the passage of revised anti-terrorism laws that give police more power, President Joko Widodo said after twin suicide attacks in the capital this week killed three policemen.
Authorities in the Southeast Asian nation have linked the explosions on Wednesday at a busy east Jakarta bus terminal to militants connected to Islamic State. Widodo, known as Jokowi, said in a statement late Thursday he ordered one of his cabinet members to "soon finish" the revision of the anti-terrorism law.
"I emphasize once again that there's no place in our country, our home land, for terrorism," Widodo said. "Other countries have laws, regulations, that allow law enforcers to anticipate."
The deadliest terrorist attack on Indonesian soil since January last year has reignited concerns over rising sectarian tensions in the world's most populous Muslim majority nation. The new anti-terror laws, which have been held up in parliament for more than a year, would give police sweeping powers of arrest and the ability to detain suspects for up to six months.

The legislation adds offenses such as taking part in military training at home or abroad, communicating about conducting terrorist acts and joining or recruiting for a declared terrorist organization. Authorities would also be given the power to strip convicted terrorists of their passports and citizenship.
This week's attacks would "put pressure on the president'' to act, Tim Lindsey, a professor of Asian law at the University of Melbourne, said after the blasts. "Civil society is increasingly anxious about the president's position on hardliner Islamists."
Jokowi suffered a political defeat last month when his close ally Basuki Tjahaja Purnama lost a bid to become the first ethnic Chinese Christian elected governor of Jakarta after he was accused of insulting the Koran. Ahok was convicted of blasphemy after the vote, and was sentenced to two years in jail.
— With assistance by Harry Suhartono
Before it's here, it's on the Bloomberg Terminal.
LEARN MORE