climate-changed
G-7 Deadlocked on Climate and Trade as Canada Presses Its Case
By
Only glancing references to tensions with Trump on the issues

A separate statement on terrorism planned by world leaders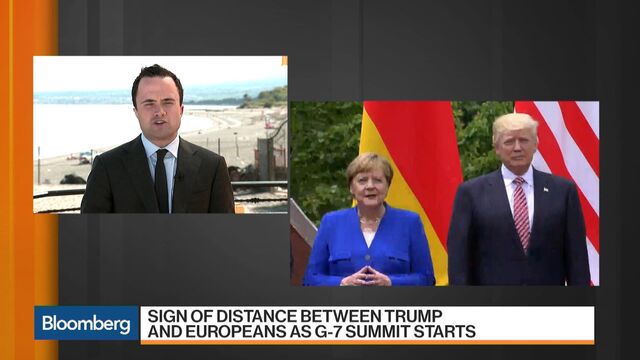 Group of Seven nations remain at odds over what pledges -- if any -- to make on climate change and trade as leaders began a two-day summit in Sicily, Canadian officials said.
In a pair of briefings Friday morning, Prime Minister Justin Trudeau's government pledged to push for action on environmental issues and advocate for trade, while making clear there is no agreement. G-7 nations haven't yet settled on wording for pledges on either climate or trade, a Canadian government official told reporters in one briefing.
Canada is "working hard with our allies to find and define common ground," Foreign Minister Chrystia Freeland told reporters Friday in the Sicilian resort of Taormina. "That's not always going to be possible, and we are never going to shy away from being clear about our values, even when not everyone agrees with them."
As the G-7 summit got under way with four first-time attendees, Donald Trump chiefly among them, it remained unclear what position the U.S. would take or even who would serve as Trump's top aide during the talks.
It's possible the final G-7 communique will note the determination of Canada, the U.K., France, Italy, Germany and Japan to move ahead on climate action while Trump's administration continues to weigh its approach, the Canadian official said. The concluding statement is going to be much shorter and more strategic than usually, speaking directly to the concerns of citizens, the official said.
Read more: Trump Rolls Into Awkward First G-7 Summit With Echoes of Reagan
The summit comes a day after NATO leaders met in Brussels, where Trump rebuked them for not spending enough on defense spending. Leaders have also been at odds over the sharing of intelligence information, particularly in the aftermath of the Manchester attack that led to U.K. concerns about U.S. leaks.
Freeland made only glancing references to tensions around Trump, in keeping with Canada's relentlessly optimistic approach to dealing with the new leader of the country's largest trading partner.
The G-7 is a "really important opportunity for the leaders to have a direct exchange and, crucially, to explain their positions," Freeland said. Canada would focus on "fact-based arguments," she said.
Discussion topics at the summit include climate, global trade, terrorism and migration. Trudeau, who was scheduled to hold a bilateral meeting with France's Emmanuel Macron on Friday, will push for G-7 adoption of the Paris Agreement climate pledges.
"We believe climate change is one of the greatest threats facing Canadians and facing the world, and it is a threat which is a global threat and needs global solutions," Freeland said.
On trade, Trudeau is set to hold up the Canada-EU trade pact, known as CETA, as a model trade agreement, particularly as the country prepares for talks with the U.S. and Mexico on adjustments to the North American Free Trade Agreement. Trudeau will cite CETA as "an example of a trade deal that works for the broadest number of people," Kate Purchase, Trudeau's director of communications, told reporters on board the plane to Sicily Thursday. "We believe in a progressive trade agreement."
Before it's here, it's on the Bloomberg Terminal.
LEARN MORE