Your Evening Briefing
Bloomberg News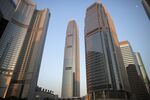 The evening briefing will soon be available in your inbox every day. To be among the first to get it, sign up here.

Hedge funds are being priced out of Hong Kong's financial center. Soaring rents in the city, coupled with relentless pressure on hedge-fund fees industrywide, are prompting managers to choose between a fancy address and profits.  It's akin to choosing Queens over Manhattan in New York — or lowly Croydon over moneyed Mayfair in London. Grade-A office rents in Hong Kong's Central district climbed 8.7 percent last year and may jump as much as 15 percent in 2017, fueled by Chinese demand and a dearth of new supply. Slowly, the stigma of being based outside of Hong Kong's bustling hub of business life, is yielding to sober financial reality. — Brent O'Brien

A tiny island off of Singapore may hold the keys to energy's future. Engie Sa, a French energy company, is experimenting with what it hopes will be the future of renewable power storage. It's helping build a small, self-contained power grid on Semakau Island off the nation's southern coast to demonstrate the usefulness of hydrogen gas in converting solar and wind power into stored fuel.

Toronto homeowners are suddenly in a rush to sell. The city's real estate market has entered a new phase: jittery. After a double-whammy of government intervention and the near-collapse of Home Capital Group Inc., sellers are racing to list their homes to avoid missing out on the recent price gains. 

Japan emerges as a surprise growth market. Is the land of the rising run finally rising again? The short answer: yes. Nominal gross domestic product and corporate profits have hit an all-time high, and lending growth is trending at its strongest since before Japan's property bubble burst.  The nation's even making inroads by attracting foreign students who are flooding into its education system.

Trump is turning his back on international tourists. The Trump administration's budget proposal released this week seeks to eliminate Brand USA, a federal tourism marketing arm organized under the Commerce Department. Brand USA argues it more than earns its keep by way of visitor spending. The common reaction to the budget and its austere measures, however, is that it can't possibly get past Congress, and Trump may be fine with that. 

An Ex-Goldman star who traded through a quake makes an unusual move. Makoto Yamada's career at Goldman Sachs followed a standard trajectory for the financial industry's elite, but that all changed in 2015.

The best restaurant in Asia is shutting down. But you still have a bit of time left to make a reservation. Gaggan, the inventive Indian restaurant in Bangkok that's won the closely-watched Asia's 50 Best awards three-straight times, is set to close in 2020. Chef Gaggan Anand says "every restaurant has a 10-year life. After that it becomes a brand."

Before it's here, it's on the Bloomberg Terminal.
LEARN MORE