U.S. Denies Trump Expressed Worry Brexit Will Cost American Jobs
By and
EU official said Trump had raised concern in Brussels talks

American official denied the account of conversation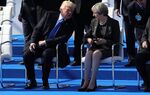 The White House denied President Donald Trump told European leaders he's worried Brexit will cost American jobs, a position that would run counter to his previous praise of the breakup.
An EU official had said Trump raised the concern in a meeting in Brussels on Thursday with European Commission President Jean-Claude Juncker and European Union President Donald Tusk. A U.S. official subsequently disputed the account.
Any change in tone from the U.S. would have been a disappointment for Prime Minister Theresa May on the same day that data showed the British economy grew just 0.2 percent in the first quarter, the weakest in a year and less than previously estimated.
Trump previously described the U.K.'s decision to leave the EU as a "beautiful, beautiful thing" and lauded his own election victory last November as "Brexit plus, plus, plus." He has also spoken of negotiating a free-trade deal with the U.K. once it splits from the EU.
The main risk to the U.S. would come if the Brexit process ended up hurting the British and European economies, hampering American exporters either by reducing demand or forcing up the dollar. The U.K. is the U.S.'s fifth-biggest market, buying about 4 percent of its exports.
American companies including JPMorgan Chase & Co. and Ford Motor Co. also have operations in Britain and have warned about the consequences of Brexit.
Before it's here, it's on the Bloomberg Terminal.
LEARN MORE