Election Truce Over as UKIP Blames May for Terror Attack
By
Break from campaigning ends with criticism of prime minister

May will cut G-7 visit short as threat level remains high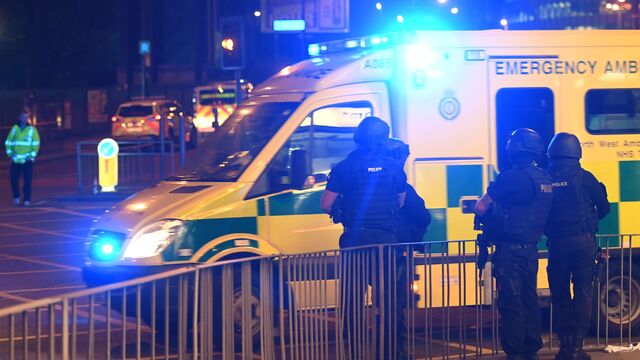 Britain's election campaign got off to a heated restart on Thursday as the U.K. Independence Party said Prime Minister Theresa May should share part of the blame for the 22 deaths in the Manchester bomb attack.
As parties resumed campaigning, UKIP signaled an end to a two-day truce with strong criticism of the prime minister. May, who was home secretary for six years, allowed high levels of immigration and failed to prevent the spread of fundamentalist ideology, UKIP's deputy leader, Suzanne Evans, said as the party launched its manifesto for the June 8 vote.

"Theresa May must bear some responsibility," Evans said in answer to questions at the event in London. "The circumstances that allowed their ideology to breed, their hatred to spread, politicians should have taken action on that."
In a meeting room near Parliament, where armed soldiers patrolled as the threat level remained at critical, party chief Paul Nuttall defended UKIP's decision to launch the manifesto on Thursday and "send a message" that terrorism cannot stop democracy.
Former Labour Home Secretary Jacqui Smith also weighed in on the issue, saying Theresa May has compromised people's safety by reducing police numbers by 20,000. Smith, who is no longer a lawmaker, told the BBC that it is "simplistic" to suggest this led to Monday's attack, but local policing is "one of the important elements of counter-terror activity."
With two weeks to go until the vote, the interventions suggest the campaign will not be muted by the worst terrorist attack on British soil in more than a decade. On Monday, May had been on the defensive, denying she'd reversed one of her flagship policies on care for the elderly. The murder that evening of 22 people, some of them children, halted campaigning and politicians on all sides were careful to show a united front against the terrorists.
May was the longest-serving home secretary for more than 100 years before becoming prime minister and says this makes her best placed to defend the U.K. from terrorism. But UKIP used her record against her on Thursday, saying that "on her watch, even non-EU migration spiraled out of control" and terrorists were allowed into Britain.
Police are continuing to hunt for accomplices of the suicide bomber after his father was arrested in Tripoli on Wednesday. Eight men are in custody in the U.K. in connection with the attack, Greater Manchester Police said in a statement.
Internet Poison
As the parties returned to campaigning for an election that polls indicate May will win, the premier traveled to Brussels for a NATO summit. She planned to urge the alliance to fully join in the fight against Islamic State and tackle what she called "poisonous" online material that radicalizes young Muslims.
She raised concerns with President Donald Trump about leaks to American media of information about the probe in Manchester, a U.K. government official said.
May is due in Sicily for a meeting of Group of Seven leaders and will leave early to helm the U.K.'s response to the attack, the official said, speaking on condition of anonymity because the travel plans aren't public. The decision to cut short her attendance at the G-7 was driven by the fact that Britain is under its gravest threat from terrorism in a decade, the official said.
"We must redouble our resolve to meet the threats to our shared security whether from terrorism or Russia," May will tell the NATO summit participants, according to extracts of her address released by her office.
— With assistance by Thomas Penny, Alex Morales, Svenja O'Donnell, Tim Ross, and Robert Hutton
Before it's here, it's on the Bloomberg Terminal.
LEARN MORE