Trump Feels EU's Firm Grip in Brussels Visit Amid Russia Dispute
By , , and
Heads of European institutions meet U.S. President in Brussels

Bloc's chief says their position on Ukraine on 'same line'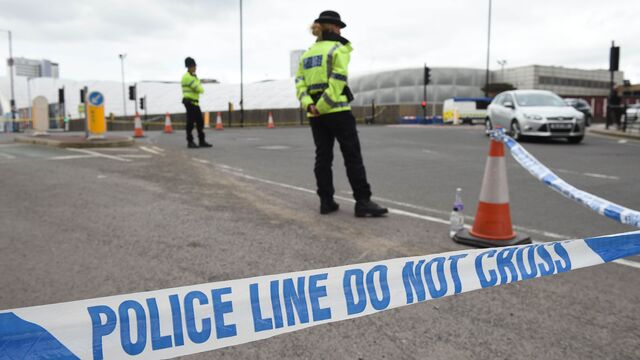 The European Union said it doesn't share a common position with U.S. President Donald Trump on Russia, while differences remain in key policy areas, including climate change and trade, adding to signs of strain in the world's closest political and economic alliance.
"I'm not 100 percent sure that we can say today -- we meaning Mr. President and myself -- that we have a common position, common opinion about Russia," EU President Donald Tusk said after meeting Trump in Brussels on Thursday. And while the EU agrees with the U.S. administration on many policy areas, including counter-terrorism "some issues remain open like climate and trade," Tusk said.
The U.S. government's protectionist rhetoric and its reluctance to commit to the Paris climate-change agreement have soured bilateral ties, against the backdrop of an ongoing probe into the Trump campaign's relationship with Russia. The EU's hand has been strengthened by successive defeats of populist parties in Europe, which Trump appeared to support, while an accelerating economic rebound in the continent adds momentum ahead of this week's summit of the Group of Seven leading industrial powers.
A lot has changed in the EU since Trump's election, when the bloc was still recovering from the U.K.'s vote to leave.
French Press
In a tellingly firm handshake during a bilateral meeting in Brussels, newly elected French President Emmanuel Macron appeared to grip Trump's hand so hard that the U.S. President's knuckles visibly turned from reddish to white. "It is my great honor to be with the newly elected president of France, who ran an incredible campaign and had a tremendous victory," Trump told reporters.
European Commission President Jean-Claude Juncker, who also participated in Thursday's meeting, "insisted on intensifying trade cooperation, which is a win-win situation for both sides," according to a statement from the EU's executive arm. The commission has said that a planned trans-Atlantic trade deal has been left "in the freezer" as a result of the election of Trump, while the G-7 statement this week is expected to be thin on support for free trade due to U.S. resistance.
"My main message to President Trump was that what gives our cooperation and friendship its deepest meaning are fundamental Western values like freedom, human rights, respect for human dignity," Tusk said. "The greatest task today is the consolidation of the whole free world around those values, not just interest. Values and principles first."
— With assistance by Jonathan Stearns, Nikos Chrysoloras, Viktoria Dendrinou, Ian Wishart, Gregory Viscusi, and Margaret Talev
Before it's here, it's on the Bloomberg Terminal.
LEARN MORE