Obama Feted in Berlin as He Praises Merkel Before Trump Summits
By
Backs German leader's liberal stance, warns on Obamacare

Ex-president shares stage as Merkel seeks fourth term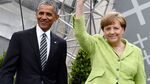 Former President Barack Obama praised Angela Merkel's leadership and encouraged her to stand up for a liberal world order, hours before the German chancellor was meeting his successor Donald Trump at a NATO summit.
Merkel, who's running for a fourth term this year, took up topics from refugees and conflicts in the Arab world to religious tolerance as she shared the stage with Obama at a Lutheran church rally at the Brandenburg Gate in Berlin. Obama, at his first public event with a foreign leader since leaving office, warned that his health-care legacy is "imperiled" and backed Merkel in a dispute over defense spending with Trump, saying that spending on security should be defined more broadly than the military budget.
The former U.S. president remains popular in Germany and his show of support for Merkel on Thursday in front of tens of thousands of people came four months before Germany's election. The international order "is at a crossroads" and leaders need to find updated answers to disruptive forces such as inequality and the globalized economy, he said.
"There's a competing narrative of fear and xenophobia and nationalism and intolerance and anti-democratic trends," Obama said to applause from the crowd. 'We have to push back against those trends that would violate human rights or suppress democracy or that would restrict individual freedoms of conscience and religion."
"We can't hide behind a wall," said Obama, who greeted the crowd in German and said Merkel had done "outstanding work, not just here in Germany but around the world."
Crowd Hisses
After working for eight years with Obama through crises including Europe's sovereign-debt woes, Merkel is still building a relationship with Trump, who vilified her open-borders refugee policy and questioned the value of the European Union and NATO before taking office.
She's also still grappling with a migrant crisis that sent more than 1 million refugees to Germany since 2015, splitting public opinion and spurring the rise of the anti-immigration, anti-euro Alternative for Germany party.
While Obama was received with cheers and whoops, Merkel drew hisses from the audience when she defended her government's policy of stepping up deportations of refugees whose asylum applications have been rejected.
"We shouldn't always think in months, we should think in years," Merkel said. "History includes setbacks, but you have to keep looking forward."
Before it's here, it's on the Bloomberg Terminal.
LEARN MORE