markets
Noble Group Rating Cut by Fitch as Refinancing Concerns Mount
By
Rating cut by three steps to B- and notes on negative watch

Negative news seen making refinancing negotiations harder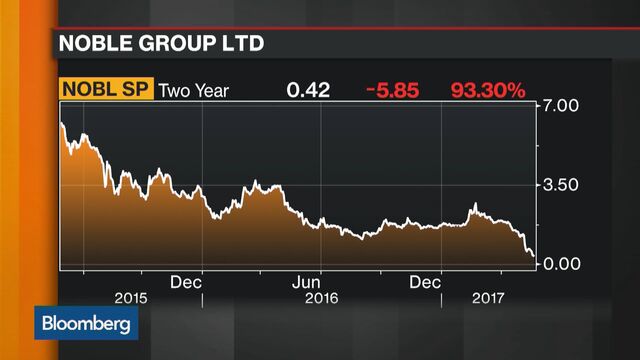 Noble Group Ltd.'s credit rating was cut even deeper into junk status for the second time in less than two weeks by Fitch Ratings Ltd., which noted concern over the embattled trader's ability to address about $2 billion of debt that matures over the next 12 months. 
Fitch cut its score on the company and its unsecured notes three steps to B- from BB-, and placed the notes on rating watch negative. The move comes after a 75 percent slump in the commodities trader's stock this year, and after downgrades also by Moody's Investors Service and S&P Global Ratings.
"The continuous negative news about the company and resultant weak sentiment is likely to make refinancing negotiations more difficult than we expected when we last downgraded the company," Fitch said. The credit assessor cut Noble by two steps on May 16.
Most immediately, the company has a $2 billion borrowing base facility, of which about $600 million was drawn down, which matures in June, according to Fitch. The rating firm said it believes lenders "may be inclined to roll a large part of this facility over" given Noble Group's high level of liquid working capital available to be pledged, but on less favorable terms.
It added that the rating watch negative will be resolved if Noble Group successfully addresses its near-term liquidity problems and refocuses on improving profitability.
There was no immediate response to a request for comment sent to Noble Group's external press adviser Bell Pottinger LLP.
— With assistance by Jasmine Ng
Before it's here, it's on the Bloomberg Terminal.
LEARN MORE