New Zealand Budget 2017: Winners and Losers
By
Government pledges to loosen purse strings if re-elected

Would boost family incomes, raise tax thresholds next year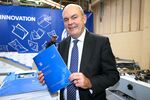 New Zealand Finance Minister Steven Joyce released an annual budget Thursday that pledges to boost incomes for families if his government is re-elected on Sept. 23.
Here are the winners and losers:
WINNERS
Low and middle-income families
The government is trumpeting a Family Incomes Package that raises the thresholds at which higher tax rates kick in and gives more assistance for those most in need, at an annual cost of NZ$2 billion ($1.4 billion). The changes, which the government estimates would help 1.3 million families by an average of NZ$26 a week, would take effect from April 1 next year.
Social Services
An extra NZ$7 billion will be spent on health, education, justice and social housing over four years.
Maori language and culture
The budget allocates an extra NZ$21 million for initiatives to "support the continued revitalization" of the language and culture of New Zealand's indigenous people. An additional NZ$10 million is allocated to boost jobs in Maori tourism.
The Defense Force
A NZ$982 million funding boost for a range of initiatives, including cyber security.

Radio New Zealand
A funding boost of NZ$11.4 million over four years for the public broadcaster, ending a prolonged freeze.
Film Industry
The budget allocates NZ$222 million over four years for the International Screen Production Grant, to attract more foreign movies.
LOSERS
Insured households
The levy paid by insured homeowners to the Earthquake Commission will increase from Nov. 1 to help rebuild the Natural Disaster Fund depleted by the Christchurch and Kaikoura earthquakes. The increase is estimated to cost homeowners as much as NZ$69 a year.
Criminals
The government has allocated NZ$763 million over four years to increase prison capacity. "While we're focused on reducing offending, we also want to ensure we have enough prison beds to keep the worst offenders off our streets," Corrections Minister Louise Upston said.
First-time house buyers
The Treasury forecasts house-price inflation will accelerate from 5.1 percent this year to 7.8 percent next year, outpacing inflation, before slowing.
Climate
Only NZ$4 million of new funding over four years to progress New Zealand's climate change work program.
Before it's here, it's on the Bloomberg Terminal.
LEARN MORE