markets
Noble Group Foe Muddy Waters Asks When 'Last Wheel' May Fall
By and
'We're not shorted now, it's hard to borrow,' Block says

Commodity trader battling for survival after years of setbacks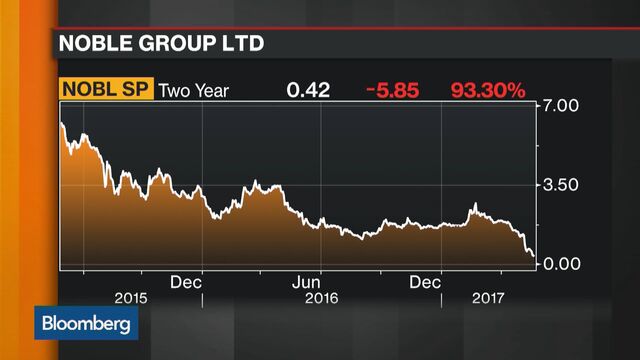 Noble Group Ltd. will almost certainly have to undergo a restructuring as the commodity trader battles for survival, according to Muddy Waters LLC founder Carson Block, who's shorted the company before but says right now he doesn't have bets against it.
"They're going to have a hard time escaping restructuring," Block said in an interview on Bloomberg Television, adding that in his view the company had less-than-zero book value. "We're not shorted now -- it's hard to borrow, it's expensive -- and just understanding exactly when its last wheel will fall off."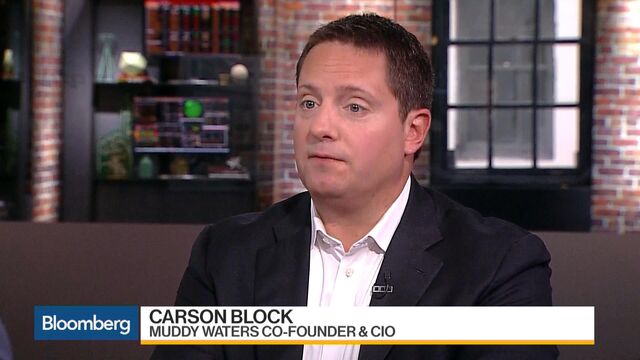 The crisis at Noble Group stretches back more than two years as the Hong Kong-based trader has grappled with losses, credit-rating downgrades and asset sales, as well as attacks from short-sellers including Muddy Waters. This week, S&P Global Ratings flagged the risk of a default within a year, spurring a rout in its bonds and shares, and Fitch Ratings Ltd. cut its credit rating for the second time in less than two weeks. The company's co-heads told staff in a memo that they were facing an "incredibly difficult environment."
'Finally Catching Up'
"It looks like it's finally catching up with it, it's kind of incredible to see it take all these years to play out," said Block, adding that he'd done his analysis of the company in 2014 and released the critique the following year after a similar attack from Iceberg Research. At the time, Noble Group rejected Muddy Waters's comments about its finances, as well as those from Iceberg.
Noble Group's shares have lost more than 70 percent this year, with the dive deepening this month after a first-quarter loss, and S&P, Moody's Investors Service and Fitch cutting ratings. The Singapore-listed shares closed 9.1 percent higher at 42 Singapore cents after a five-day plunge.
Fitch cut its score on Noble Group again on Thursday -- after doing so on May 16 -- and placed its debt on rating watch negative. Fitch said Noble Group's refinancing negotiations will be more difficult than expected, and that lenders may be inclined to roll "a large part" of its borrowing-base facility over but on less favorable terms. Noble Group was downgraded by three notches to B-, deeper into junk category.
Potential Partners
Block has established a name as a short seller with high-profile bets against companies including Sino-Forest Corp., and more recently China Huishan Dairy Holdings Co. He's also tussled with Olam International Ltd., a Singapore-based trader of agricultural commodities.
In the memo, Noble Group co-Chief Executive Officers Jeff Frase and Will Randall said Chairman Paul Brough is leading a review, while talks with banks are ongoing. On Wednesday, the trader said it's still in talks with potential partners, and has appointed Morgan Stanley and Moelis & Co. to assist.
S&P has said Noble Group's capital structure isn't sustainable and there's potential that the company will face a nonpayment of its debt over the next 12 months. In its assessment, Moody's highlighted a $900 million gap between estimated liquidity headroom and debt due by the middle of next year.
Following the first-quarter loss, which was driven by wrong-way bets on the coal market, Noble Group has flagged that it's trying to regain profitability by 2018-2019 although that's not certain. Singapore-based DBS Group Holdings Ltd. has warned that the losses may well continue.
"Right now, the company really needs a white knight to come in and rescue it," Margaret Yang, a strategist at CMC Markets, said in a separate interview on Bloomberg Television. "Longer term, I think the company needs to prove to investors that it can turnaround its profitability and cash flow."
— With assistance by Karolina Miziolek, and Haidi Lun
(
Updates with Fitch's downgrade in third, sixth paragraphs.
)
Before it's here, it's on the Bloomberg Terminal.
LEARN MORE