Manulife Names Ex-Citigroup's Gori CEO as Guloien to Retire
By and
Bromley departs as general manager of U.S.; Doughty steps in

Gori to become CEO Oct. 1, join insurer's board of directors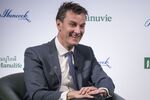 Manulife Financial Corp.'s head of Asian operations, Roy Gori, will take over as chief executive officer at Canada's largest life insurer this year as Donald Guloien retires, underscoring the company's push to expand in Asia and modernize products for a new generation of customers.
"Our industry is still very paper based and very manual," Gori, 48, who joined Manulife from Citigroup Inc. in 2015, said in an interview Thursday. "Our ambition is to really see how we can digitize all of our processes and create a huge differentiation versus the competition."
Manulife, like all big traditional insurers, is contending with declining consumer interest in some products as well as the pinch of low bond yields. The Toronto-based company also seeks to capitalize on burgeoning insurance markets in Asia. The continent generated 36 percent of Manulife's revenue last year, almost as much as the U.S. and more than the company's domestic market.
While Guloien helped stabilize the insurer after the credit crisis, the stock is still down more than 40 percent from its 2007 peak. Manulife has also underperformed the Canadian benchmark stock index since he became CEO in 2009.

"The speedy rise of Roy Gori shows how he has delivered as Asia CEO and how important Asia is going to be for the company," Linda Sun-Mattison, an analyst at Sanford C. Bernstein & Co., said by email. She has an "outperform" rating on the shares.
Asian operations are set to become a bigger part of Manulife's profit and earnings, according to Gori, who is moving from Hong Kong to Toronto early next month.
"Asia is obviously growing at a faster pace than the rest of our business," Gori said. "That's a function of the economies in Asia and the low penetration of insurance in that part of the world."
Still, Manulife has "ambitious growth plans" across all its markets and business lines, including the wealth and asset-management units, the incoming CEO said.
Gori, who was already set to become Manulife's president next month, will succeed Guloien as CEO on Oct. 1 and join the board, Manulife said Thursday in a statement. Guloien, 60, said he doesn't plan to take on any other CEO positions and will remain an adviser to the company.
"While I'm not going to meddle in Roy's decision making in any way, shape or form, I will be available to him 24 hours a day for any advice that he needs or to represent the company," Guloien said in a telephone interview. Gori is ready to "take the company to the next stage of success," he said.
Cottage Time 
Guloien said he's been working since age 13 and is ready for some relaxation time, especially at his cottage in Ontario. He has been open about not expecting to work until the "typical" retirement age, Manulife spokesman Sean Pasternak said in March.
Manulife on Thursday also announced the departure of Craig Bromley, general manager of the company's John Hancock division in the U.S. Michael Doughty has been promoted to that role on an interim basis. Bromley's departure was "unexpected," Barclays analyst John Aiken said in a note to clients on Thursday.
Aiken said while Guloien's departure is "disappointing," Gori is a "strong replacement" and he doesn't expect any material changes in business or strategy at the company.
Prior to joining Manulife, Gori oversaw consumer banking at Citigroup for North Asia and Australia. He also was the bank's regional head of retail banking for the Asia Pacific region, a role that included oversight of insurance and wealth-management businesses.
Manulife shares rose 0.90 percent to C$23.75 as of 3 p.m. in Toronto. The stock has advanced about 21 percent in the past 12 months.
Quotes from this Article
Before it's here, it's on the Bloomberg Terminal.
LEARN MORE