LSE CEO Says EU Rhetoric on U.K. Clearing 'Exceeds Reality'
By and
Rolet says move would damage euro as global reserve currency

Germans want most euro clearing moved from London after Brexit
The benefits of a London hub for euro clearing are "fully understood" by European governments, despite recent claims that the industry should be forcibly moved to the Continent after Brexit, the head of London Stock Exchange Group Plc said.
"The rhetoric at times tends to perhaps exceed reality on the ground," LSE Chief Executive Officer Xavier Rolet said in a Bloomberg Television interview Thursday. "That has definitely been the case in the last few months in the European Union."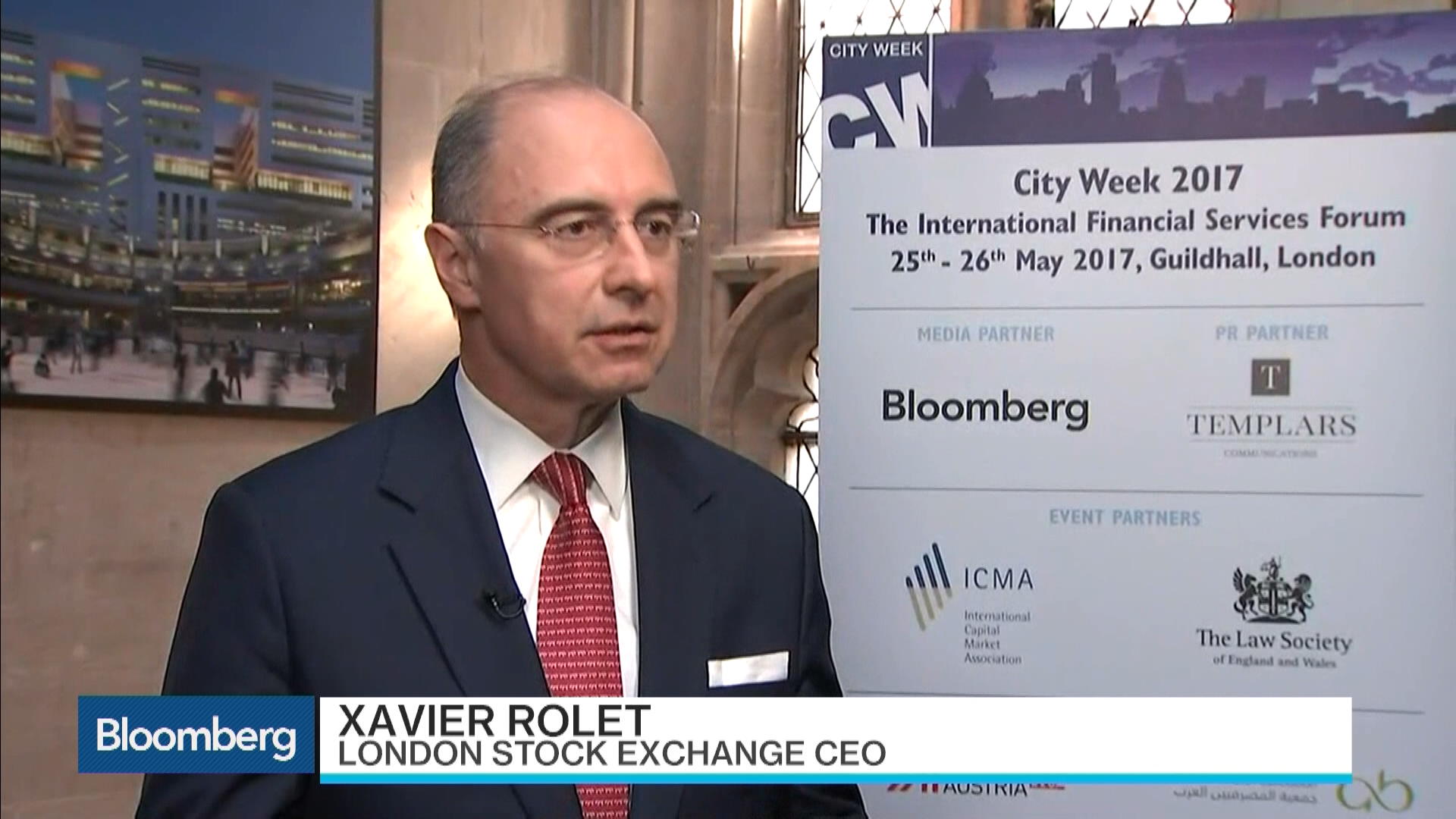 The comments come as EU officials debate the future of euro-denominated derivatives clearing once the U.K. leaves the bloc. Germany's finance minister this week said the majority of euro clearing should take place within the EU. Clearing, which protects buyers and sellers in case of default, is a lucrative business currently dominated by London firms, including LSE.
But maintaining a U.K. financial hub is in Europe's interests, Rolet said, and any political argument to extract clearing "does not fully comprehend the increase in systemic risk." The CEO has claimed banks and investors will face $100 billion more in costs if euro clearing is forcibly repatriated.
A move would create an illiquid, costlier, riskier market and "do lasting damage" to the EU's desire to make the euro a global reserve currency, Rolet said Thursday in the interview at a conference in the U.K. capital.
The European Commission, the EU's executive arm, has proposed measures to protect against risks posed by clearinghouses outside the bloc that play a "systemic role" in its markets.
Rolet said he has so far seen no sign of clearing flows leaving London, and that flows have actually been increasing "quite substantially."
Among other speakers at the conference, Aberdeen Asset Management Plc CEO Martin Gilbert, said that if London was stripped of euro clearing, more of his firm's staff would need to be moved to offices inside the EU, though only a handful. City of London Corporation policy Chairman Catherine McGuinness said she had seen "no flood of people away from London."
Rolet has previously said Brexit would result in the departure of as many as 232,000 U.K. jobs. The Bruegel think tank has put the number at 10,000 banking jobs, with a further 20,000 roles in financial services.
Lloyds Banking Group Plc Chairman Norman Blackwell said London's financial-services industry would survive even if the U.K. leaves the EU without a trading deal in place.
"Rather than the Jenga tower falling down" London will flourish due to the many advantages that have made it a global financial center, Blackwell said, referencing an analogy used by the HSBC chairman, Douglas Flint, of a Jenga game of piled bricks that could fall apart in an adverse scenario of Brexit.
Before it's here, it's on the Bloomberg Terminal.
LEARN MORE