Green Power Broker to Set British Columbia's Course Next Week
By
Environmental party holds balance of power after recount

Leader aims to decide which party to support by Wednesday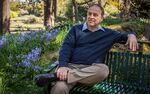 Andrew Weaver, the climate scientist-turned-political power broker in Canada's westernmost province, aims to decide which party his Greens will support within a week, a determination that could set the course of British Columbia's first minority government in 65 years.
A final ballot recount left Premier Christy Clark's Liberal Party one short of a majority with 43 seats in the provincial legislature. Its biggest rival, the New Democratic Party, is three short with 41. That leaves Weaver's Green Party holding the balance of power after it won a record three districts. His support for either party would result in a majority.
"We recognize that it is important over the next week or so before the writ is returned to give certainty to British Columbia and that is our target," Weaver, a 55-year-old university professor, told reporters in Victoria, referring to the election's formal end on May 31. "We've had productive discussions with both," he said.
The Pacific Coast province that boasts Canada's fastest-growing economy, hasn't seen a party govern with a minority of the seats in the legislature since 1952. Cross-party negotiations and how the Greens choose to wield their power may cloud the outlook for projects like Kinder Morgan Inc.'s Trans Mountain oil pipeline expansion and Petroliam Nasional Bhd's proposed $27 billion project to export liquefied natural gas to Asia. Petronas declined to comment on the election result.
Clark, 51, as leader of the party with the most seats, has said she intends to continue as premier. After the final count, she called for the parties, "to move forward and form a government."
The Liberals would need support from opposition lawmakers to pass bills, and would be ousted from power if they are defeated on a so-called "confidence" vote such as a budget or throne speech.
New Democratic Party leader John Horgan, a feisty 57-year-old former pulp mill worker and cancer survivor, indicated he intends to battle Clark for the post of premier. The combined votes won by the NDP and Greens speak, "pretty clearly to people not wanting another four years of Christy Clark," he told CKNW radio early Thursday. "I'm hopeful that in the days ahead we'll be able to strike an accord," with the Greens, he said.
The results mark new territory for the Green Party, which has never had more than a single member elected to a Canadian legislature. Weaver, a Cambridge-trained climatologist, has said Kinder Morgan's pipeline has "no place on our coast" and has dismissed the Liberals' efforts to develop an LNG industry as "nonsense" and a "colossal failure."
The Green Party and NDP share similar ideas in some areas -- such as opposition to Kinder Morgan's pipeline, raising carbon taxes, and taxing housing speculators. But Weaver has also hinted that on economic issues his party is "closer to the Liberals than the NDP."
Before it's here, it's on the Bloomberg Terminal.
LEARN MORE