Bank of Korea Backs Moon's Plans on Spending, Household Debt
By and
Lee supports plans to curb debt, raise government spending

Central bank sees economy growing a bit faster than forecast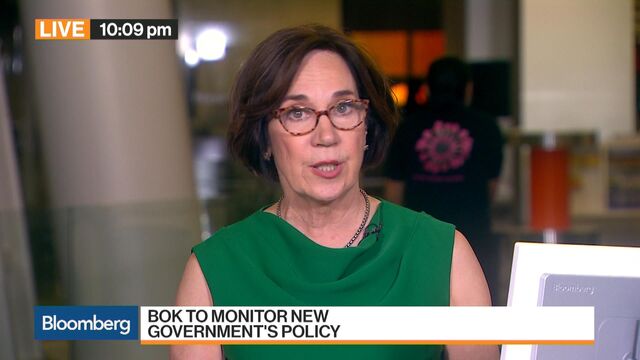 The Bank of Korea endorsed plans from President Moon Jae-in to contain household debt while increasing fiscal stimulus, as it held its benchmark rate at a record low again.
Governor Lee Ju-yeol said the seven-day repurchase rate is "sufficiently accommodative" at the current 1.25 percent, and that the economy should beat the BOK's previous growth projection this year.
Moon has expressed concern about the record level of household debt, and has pledged to boost government spending, giving the central bank another reason not to cut the rate.

Lee said he also sees the need for fiscal stimulus and curbing the debt, and that stimulus would be more effective with lower interest rates.
"I am concerned that if household debt continues to increase, it can limit monetary policy and the economy," Lee said in press briefing. He said income should grow faster than debt, a state Moon pledged to achieve during the recent election campaign, and that he expected the growth in debt to slow due to government measures.
While loose monetary policy is seen to have supported economic growth in recent years, the debt, which reached 1,359.7 trillion won ($1.2 trillion) in the first quarter, has been one side-effect. It's been cited in a central bank survey as one of the biggest risks to the country's financial system. The ratio of household debt to disposable income stood at 153 percent at the end of 2016.
Jobs Push
Of Moon's push to create more jobs, Lee said the BOK also monitors job conditions, but that more discussion would be needed to include it as an official mandate.
Lee said the central bank would not mechanically respond to changes in the Federal Reserve's benchmark rate, noting the market seemed to expect another increase in June.
This comment was "reassuring" and seemed to indicate there is much time left before Korea's rate goes up, said Park Jong-youn, an analyst at NH Investment & Securities Co. "The possibility of the BOK raising its economic forecast in July has significantly increased."
The BOK's unanimous rate decision was expected by all 20 economists in a Bloomberg survey. Most economists see no change this year, and the consensus points a hike by the end of 2018. 
The BOK said in its policy statement that it expected growth this year to be slightly above its April projection of 2.6 percent, with exports expanding more than forecast. It stuck to its inflation forecast of 1.9 percent.
Robust Exports
The central bank said consumption will continue to grow modestly. Exports "will continue a trend of robust increase" and investment will expand, it said. Government stimulus measures can support growth, but trade protectionism and North Korea-related tensions are downside risks, it said.
"We doubt a rate change will come onto the agenda any time soon," Krystal Tan, Asia economist with Capital Economics, said in a note after the decision was announced. "With the economy showing signs of improvement, there is no urgency for rate cuts" and inflationary pressures remain benign despite the improving economy.
South Korea's won appreciated 0.8 percent against the dollar on Thursday to 1,117.15 as of 12:17 p.m. in Seoul. The yield on three-year government bonds was little changed at 1.69 percent.
Before it's here, it's on the Bloomberg Terminal.
LEARN MORE