Balance of Power: British Fury
By and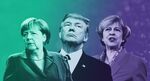 Theresa May likes to describe herself as a "bloody difficult woman." Donald Trump is about to find out what that feels like.
At today's NATO summit in Brussels, the president may get an earful from a frustrated prime minister who can't understand why British intelligence from the Manchester bombing keeps showing up in U.S. media. Particularly infuriating were pictures in the New York Times yesterday from inside the arena, including of a detonator supposedly held in the attacker's left hand.
The leaks feel like a betrayal to the Brits, and the BBC reported this morning that Manchester police are no longer sharing intel with the Americans — an extraordinary move.
It's hard to overstate how serious this might become. Intelligence-sharing helps bind the U.S. and its western allies. And while Trump has called for even more — and a stepped-up role for NATO in the fight against Islamic State — he didn't help himself by apparently sharing Israeli intelligence with the Russians last month.
NATO summits are usually pretty staid affairs, filled with pious speeches about the sanctity of the Atlantic alliance and polite grumbling over who's not pulling their weight. Not this year.
Sign up to receive the Balance of Power newsletter in your inbox, and follow Bloomberg Politics on Twitter and Facebook for more.
Global Headlines
China blasts U.S. challenge to territorial claims | Officials in Beijing today accused a U.S. warship of trespassing for sailing near a Chinese-claimed reef in the South China Sea. The maneuver, a signal that the U.S. wants to keep critical sea lanes open in a body of water claimed by China, was the first such operation since Trump became president.
Brasilia burns | President Michel Temer called in the army to restore order after protesters set a building on fire in the country's capital. The violence highlights the anger coursing through Brazilian society after another round of corruption allegations implicated the president last week. Images of troops in the street touched a nerve in a country with stark memories of its last military dictatorship, which ended in 1985.
India pushes back on China | India is shifting onto the offensive against China along their contested border in the Himalayas. As Bloomberg's New Delhi bureau reports, Prime Minister Narendra Modi's government is set to open the nation's longest bridge to ease the movement of troops and weapons to Arunachal Pradesh. It's one of India's most remote regions and territory that China claims in full.  
Iran's Islamic evolution | The jubilant street celebrations that followed the reelection of President Hassan Rouhani -- the closest thing to a liberal allowed on the ballot -- showed a society much changed since the Islamic Revolution of 1979. As Bloomberg's Marc Champion and Ladane Nasseri write after their trip to Tehran,  there's widespread support for opening up the economy and expanding personal freedoms despite stagnant living standards.
Obamacare repeal hits another snag | There wasn't much for spending hawks to like in a government report out yesterday that further complicates Republican efforts to roll back Obamacare. The Congressional Budget Office estimates that a House-passed bill would reduce the deficit by $32 billion less than a previous version that leaders had to scrap for lack of support. The measure would also leave 23 million Americans uninsured, the CBO said.
Trump's Afghan conundrum | The situation in Afghanistan is getting worse and putting Trump in bind because while he's vowed to stop being the world's policeman, he also wants to tackle terror head-on. As Bloomberg's Margaret Talev and Nick Wadhams write, either choice carries great risks and Trump has been around long enough now that he can't blame Obama for casualties on his watch.
And finally... In the era of Donald Trump, water-cooler chats have never been so complicated. In the latest Game Plan podcast, Bloomberg talks to author Ijeoma Oluo about race, politics and how to talk about tough topics at work. If done right, "there's a great opportunity in these conversations," she says. To listen, click here.
--With assistance from Andrew J Barden and Karl Maier.
Before it's here, it's on the Bloomberg Terminal.
LEARN MORE