This Sports Gel Built a Cult Following Among Extreme Athletes
Hanah One is the natural way to get pumped up.
By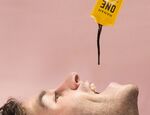 In 2008, while running a film production company in Prague, amateur triathlete Joel Einhorn was training on his bike when he crashed, resulting in a traumatic brain injury and a broken collarbone that required surgery. He couldn't sleep for two days, nor could he close his eyes without spinning. Two weeks after the incident, Einhorn was at an Indian restaurant and got to talking with a doctor who practiced Ayurvedic medicine. Soon Einhorn was taking seven daily herbal remedies, including botanicals such as ashwagandha and amalaki, which he'd mix into tea or water or take as tablets. His head cleared quickly, he says, and after three months he was swimming, running, and biking again. "I wondered, Is it these herbs?" says Einhorn, now 41. "I found that they were good for stamina, endurance, anti-inflammation, and recovery."
Einhorn started making his own concoctions, stirring the herbs with brewed green tea and honey. He'd pour them into a water bottle and go on six-hour bike rides. "It tasted awful," he says. "But there was no doubt that it was allowing me to maintain a higher level of performance." In 2013 he began to build a business around his mixture, which he'd fine-tuned with the help of a second Ayurvedic doctor, into a black paste consisting of honey, ghee, sesame oil, sugar cane, and 30 herbs. Einhorn named the formula Hanah One, a tribute to Maui's Hana Highway, the most beautiful place he'd ever seen.
Over the next four years, he sold only 5,000 11-ounce jars through his website at $55 each (that's $275,000). But in November 2016, with about $1 million from investors including Stephen Badger, chairman of Mars Inc., the maker of Mars bars, Einhorn started offering Hanah One in a 1.1-oz. serving ($49 for 12), packaged in a recycled cardboard-and-foil tube that's easy to rip open with your teeth and squeeze into your mouth while biking or running. After mountaineer Jimmy Chin and snowboarder Travis Rice endorsed the product on social media, it gained a cult following. Since November, Einhorn's company, Hanah Life, has sold $50,000 of product per month, about 80 percent of which is bought by consumers who treat it like a daily "superfood," putting it into coffee, tea, or smoothies.
In the U.S., sports gels and bars are a $1 billion annual business. Athletes eat gels, which are mostly sugar and have the consistency of frosting, for a quick energy fix. The knock on them is that they can cause gastrointestinal distress; it's tough to digest 100 calories from sugar, says Barbara Lewin, a sports dietitian who works with Olympic athletes and members of NFL, NHL, and NBA teams. Hanah Life says athletes fueling up with the supplement haven't experienced the same issues. Still, Lewin is skeptical of its efficacy, in part because the herbal proportions aren't labeled. "It's about the synergy of the compounds used in the right amounts," she says, adding that the 40 calories per serving isn't enough to energize a sportsman for long. "And it contains fiber, which isn't [usually] in sports gels. If you doubled the serving, you'd be ingesting too much fiber. That would cause gut distress, too."
There's also concern that some Ayurvedic compounds contain toxic metals such as lead and mercury. But Einhorn says this isn't the case with Hanah One, noting the company tests ingredients in India when they're harvested and again in the U.S. to make sure they don't contain those metals. The dairy for the ghee, he adds, comes from rare Vechur cows, whose milk is prized in Ayurvedic practices for its medicinal quality. Sourcing these ingredients, however, can be difficult, which is why Einhorn plans to scale slowly. For now, the product can be purchased only on Hanah Life's site. The company is churning out 10,000 jars a month. "Eventually," Einhorn says, "we can make 300,000."
(
Corrects where the brand was founded in the second paragraph.
)
Before it's here, it's on the Bloomberg Terminal.
LEARN MORE