markets
China's Risk Crackdown Deters Debt When Banks Need It Most
Bloomberg News
Lenders' NCD sales falling short of maturities for first time

Money market conditions to tighten further: China Merchants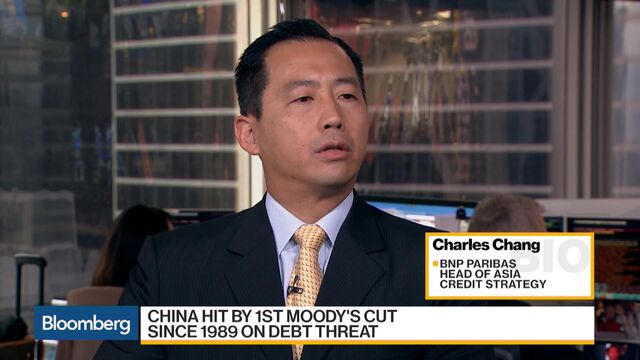 China's revved up campaign to clean up its financial system couldn't be coming at a worse time for the country's banks.
The deleveraging drive is spurring lenders to curb issuance of negotiable certificates of deposit -- short-term debt that banks have been using to finance purchases of each other's wealth-management products, fueling concern over wider systemic risk.
While the drop in sales shows the crackdown is starting to bite, the timing isn't good. A record 4.52 trillion yuan ($656 billion) of the debt is set to mature this quarter and a traditional period of tighter liquidity is looming. Issuance is trailing the amount of NCDs due for repayment for the first time ever.

"The reduction in NCD sales by banks will lead to a funding gap, especially for mid-sized and smaller lenders," said Xu Hanfei, chief bond analyst in Shanghai at China Merchants Securities Co. "This will tighten liquidity in the mid-year."
Regulators have had NCDs in their sights for a while.
Introduced in 2013 as a lifeline for smaller banks, issuance of the certificates soared to an all-time high of 2.1 trillion yuan in March amid the rise of the wealth-management product trade. A circular arrangement developed whereby the banks selling the WMPs would then channel the proceeds into the bond market, resulting in a mismatch between the shorter-term NCDs and other debt investments.
Don't Say You Weren't Warned About China's WMPs: QuickTake Q&A
China's de-risking campaign has been ramped up over the past month as President Xi Jinping ordered a "check" of China's financial markets amid concern about the systemic threat posed by the nation's record debt pile. Dominated by smaller, potentially less stable banks, NCDs are an easy target. Lenders outside of China's top 10 by market value accounted for 78 percent of total sales this year, the most ever.
Regulatory Moves
In April, regulators demanded that banks report levels of outstanding certificates as well as the scale of their so-called entrusted investments -- funds that banks farm out to external asset managers -- by June 12. The People's Bank of China is also reported to be looking at requiring lenders to re-classify NCDs in a way that could quell their growth given limits on how much interbank debt can be held relative to overall liabilities.
Yields on the certificates have subsequently soared, with the cost of issuing six-month NCDs rated AA+ climbing 22 basis points in May to an all-time high of 4.92 percent, according to data compiled by Bloomberg.
While he doesn't see banks defaulting on NCDs, there will be an impact, says Qiang Liao, senior director of financial institutions at S&P Global Ratings in Beijing. "Some smaller banks will be hit financially due to the changes in the market environment."
Moody's Investors Service unexpectedly cut China's credit rating on Wednesday, citing the disjoint between the bid to deleverage while maintaining the pace of growth: more here.
NCD rates rose Wednesday as stocks spiked lower on the Moody's move.
The prospect of banks not being able to raise enough funds to cover their maturing NCDs is concerning, given China's money markets already come under pressure mid-year. The seven-day repurchase rate was at 2.96 percent Thursday, the highest since the end of March.
June Tightness
The benchmark seven-day repurchase rate has climbed every June over the past 10 years as financial institutions hoard cash toward the end of the second quarter and fight for deposits. In 2013, the combination of this and the central bank's reluctance to inject liquidity caused a cash crunch that rippled through global markets.
Add to that the potential for another interest-rate hike from the Federal Reserve. The PBOC is likely to follow such a move, tightening monetary conditions to maintain stability in the currency market, Standard Chartered Plc. strategists Becky Liu and Jeffrey Zhang wrote in a note May 23.
"What will happen is -- those which issued NCDs prolifically and were most active in expanding interbank businesses will feel the squeeze most," said David Qu, a Shanghai-based market economist at Australia & New Zealand Banking Group Ltd. 

NCDs rated AA+ already cost a record 36 basis points more than those rated AAA, data compiled by Bloomberg show.
Read more: Mounting Costs, Not PBOC, Could Slow China's Bank Debt Binge
"The widening gap indicates smaller lenders are relatively slow compared with bigger banks in cutting their assets and trimming NCD sales," said Shi Lei, acting head of the fixed-income department at Ping An Securities Co. in Shenzhen. "Given the expansion of the businesses since 2015, the scale of further reduction is immense -- it will continue in the next one to two quarters."
— With assistance by Helen Sun, Ling Zeng, and Narae Kim
(
Updates with money-market rate in 12th paragraph.
)
Before it's here, it's on the Bloomberg Terminal.
LEARN MORE