Contempt Charge Against Flynn Possible, Senate Panel Leader Says
By and
Burr disputes Flynn's ability to take Fifth on documents

Committee wants to hear from intelligence director Dan Coats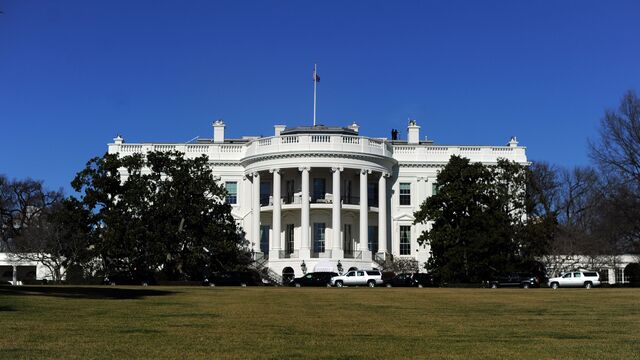 The Senate Intelligence Committee chairman warned Tuesday of a possible contempt citation against former National Security Adviser Michael Flynn if he doesn't provide documents for the investigation of Russian meddling in the U.S. election.
Panel Chairman Richard Burr said the committee sent a letter to Flynn's lawyer challenging the former adviser's contention that he can refuse to turn over documents by citing the Constitution's Fifth Amendment protection against self-incrimination.
"At the end of that process is a contempt charge," Burr, a North Carolina Republican, told reporters in Washington. A contempt citation is "not our preference," the senator said, adding that Flynn "publicly said he has a story to tell. We'd like to give him an opportunity to do it."
The committee is investigating the possibility of collusion by President Donald Trump's campaign with the Russian election-meddling. Flynn, who was a top adviser to Trump's campaign, declined on Monday to be interviewed or to provide documents to the intelligence panel. He resigned as national security adviser weeks into the administration amid claims he misled Vice President Mike Pence about his talks with the Russian ambassador during the transition.
Previously, Flynn had offered to testify to Congress in exchange for immunity from prosecution, a request lawmakers spurned.
Read more: Unwinding the Twists, Turns in Trump-Russia Probe
The Intelligence committee's vice chairman, Virginia Democrat Mark Warner, said the panel also had issued subpoenas to two Flynn-related businesses in Virginia for documents in the probe, and that one had already been served.
"A business does not have the right to take the Fifth," Warner said.
Asked by reporters why the committee didn't offer Flynn immunity from prosecution to get his testimony, Burr said, "we don't believe that it's our place" to do so in a potential criminal investigation.
Warner also said the committee had requested testimony from Director of National Intelligence Dan Coats. The Washington Post reported Monday that Trump asked Coats and Admiral Mike Rogers, the head of the National Security Agency, to publicly deny the existence of evidence of collusion between his campaign and Russia after then-FBI Director James Comey announced in congressional testimony that the FBI was investigating possible coordination.
At a hearing Tuesday before the Senate Armed Services Committee, Coats said he couldn't confirm or deny the report.
Coats said he'd be willing to discuss the matter with former Federal Bureau of Investigation Director Robert Mueller, who was appointed last week as a special counsel to oversee the agency's probe of Russian interference. Coats said information and discussions he had with the president shouldn't be disclosed, but that if he's called before an investigative committee of Congress, he would be willing to provide "what I know and what I don't know."
'Every Opportunity'
Coats said the U.S. is looking at "every opportunity" to hold Russia accountable for its interference in last year's elections.
Earlier Tuesday, former CIA Director John Brennan said U.S. intelligence showing communication between Russian officials and Trump's campaign raised questions about whether there was any cooperation.
"I encountered and am aware of information and intelligence that revealed contacts and interactions between Russian officials and U.S. persons involved in the Trump campaign that I was concerned about," Brennan told the House Intelligence Committee.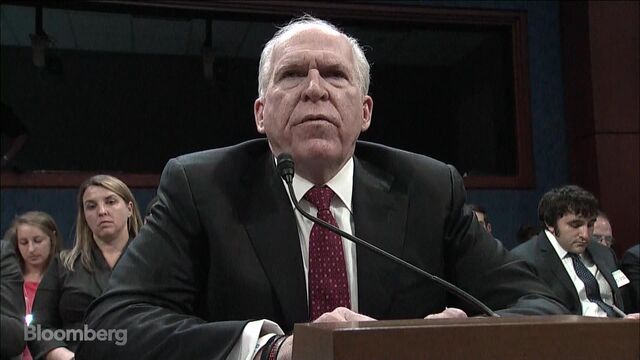 Brennan, 61, who oversaw the spy agency from early 2013 until January, when Trump took office, said the contacts "raised questions in my mind, again, whether or not the Russians were able to gain the cooperation of those individuals." He said he doesn't know whether there was "collusion."
Brennan said he confronted the head of Russia's FSB, the successor agency to the KGB, over meddling in the election during a phone call in August. "I said American voters would be outraged" if Russia continued to interfere, he said.
Lawmakers are also looking into the circumstances surrounding Trump's dismissal this month of Comey, who was leading a government probe into the Russia matter.
The White House said in a statement that Brennan backed up the president's statements.
"Despite a year of investigation, there is still no evidence of any Russia-Trump campaign collusion," according to the statement.
Before it's here, it's on the Bloomberg Terminal.
LEARN MORE