Trump Budget Contains Little on Drug Prices Despite Tough Talk
By
President had promised to tackle U.S. drug-pricing issues

Plan would prod FDA to make changes to benefit drug industry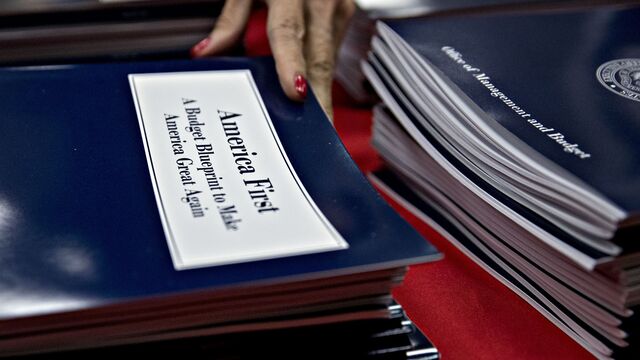 President Donald Trump has repeatedly excoriated pharmaceutical companies for high drug costs, but the policy and spending plans in his administration's 2018 health budget contain almost no major proposals that would impact the industry's pricing practices.
On the campaign trail and after taking office, Trump repeatedly criticized the drug industry. He said drugmakers were "getting away with murder" and said he'd have the U.S. government make the industry bid for government business, a dramatic proposition to cut prices that sent biotechnology and drug stocks spiraling downward on more than one occasion.
The budget details are described in a lengthy document titled "Putting America's Health First" that appears to be a copy of the fiscal 2018 Health and Human Services Department budget. It was removed from the HHS website soon after it posted.
Trump's budget is scheduled to be officially released Tuesday, and Alleigh Marre, an HHS spokeswoman, declined to say if the version posted Monday was the final one. "The only official version of the HHS budget will be released by the Office of Management and Budget at 11 a.m. tomorrow," she said in an email.
While the health budget includes proposals to sharply cut research at the National Institutes of Health, shrink Medicaid by billions of dollars, and reduce many other programs, drugmakers appear to be spared. Instead, the fiscal 2018 budget proposal calls for the Food and Drug Administration to speed drug approvals and help clear the way for pharmaceutical companies that have attempted to negotiate pricing based on how well their treatments work.
For more politics coverage, subscribe to the Bloomberg Politics Balance of Power newsletter
Other Proposals
Most presidential budgets are largely ignored by Congress, which typically treats the documents as a suggestion rather than a road map. Trump's request for the FDA totals $5.12 billion, according to the document.
The budget proposal calls for the FDA to "speed the availability of innovative, safe, and effective medical products in the market," and calls for reducing reporting burdens for drugmakers. Trump would also clear the way for drugmakers to talk to insurers and other payers about treatments before FDA approval, so that they're not caught off guard by any high prices.
Graphic: Decoding Big Pharma's Secret Drug Pricing Practices
There are other avenues the administration could pursue on drug costs. FDA Commissioner Scott Gottlieb has previously called for lowering drug costs by getting generics to market faster, particularly by focusing on complex medications that combine old drugs with newer delivery devices, as well as those with unusually complicated formulations.
The administration also wants to increase the amount of fees drugmakers pay to the FDA to review new products for approval. Lawmakers have so far ignored the request, and negotiated their own legislation on the fees, which is moving through Congress.
Before it's here, it's on the Bloomberg Terminal.
LEARN MORE